I spent a nice week end of rock in Tallinn, the Estonian capital, and there on Saturday I had the chance to assist for first time to a Glenn Hughes concert minutes after being in Scorpions' press conference at a luxurious hotel.
The German guys were friendly and funny, although they arrived half an hour late and they seemed to be in a hurry to leave the room, basically not much time to take pictures or chat a bit with them. I got also a bit pissed off because they had some nice posters on the table, and at the end of the press conference a guy from the organization took them away and we could not even enjoy a small souvenir from the band.Unfortunately I did not have time enough to arrive on time to the sound check to make a personal interview with Glenn Hughes. Glenn is a rock living legend who had played with bands such as Deep Purple or Black Sabbath, apart from having had many other interesting projects alone. He appeared on stage looking good and sharp. The venue was at Rock Café, in Zelluloosi Keskus; a place near Tallinn's bus station quite nice for rock concerts, and old paper factory reconverted into a rock club. The atmosphere reminded me a bit of Nosturi in Helsinki, and here you do not even have to pay for the wardrobe!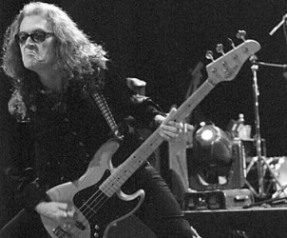 Hughes must have suffered some kind of lifting in the skin of his face, because the man really looks younger than his age. I had read opinions in some forums of people who did not want to go to the concert because considered him a kind of "old fart", but the image he displayed on stage was totally the opposite. With a funky sound and moving all around, he played his bass player (and also the electric guitar in some songs) with a lot of vitality, but without forgetting to wink to his old fans with some classics like Stormbringer. Although the venue was not totally fully packed, and the beginning of the concert was a bit cold, Glenn managed to warm the atmosphere and make people dance with a great show. You could notice how the band was enjoying the concert more and more after some time passed by, with more smiles painted in their faces, and put a great cherry on top of the cake, being this their last European concert before coming back to USA.
So for the moment you cannot enjoy new gigs of Hughes in Europe, at least for some time, but if you have the chance to visit Rock Café if you are in the Estonian capital, I am sure that automatically will become one of the favorite places for rock lovers. Although beer is not as cheap as you could expect, 45 Estonian crowns-3 euro…