Hadouken is a band that probably will appear in many magazine covers in the future. They combine talent, energy and a fresh style that makes you jump on your feet even without noticing it. Compared by many with well established bands like Chemical Brothers or Prodigy, which is undoubtedly a good sign, their guitar player Daniel "Pilau" Rice attended kindly our questions just after the release of their follow up album For the Masses.
First of all, thanks for your time answering our questions! If you are so kind, please explain a bit more in detail how were the beginnings of the band in Leeds, and how did you all end up playing together in Hadouken.
James, Alice and I all went to Leeds Uni, though James and Alice had already met at Art College. James is background is in UK garage and other British dance music genres, once he came up to Leeds though he also got into a lot more guitar based indie and rock bands and started writing tunes that drew influence from both styles. The band came together pretty easily as James got his girlfriend Alice on board to play synths and I invited my younger brother to take up drumming duties who in turn asked his friend Chris to place Bass.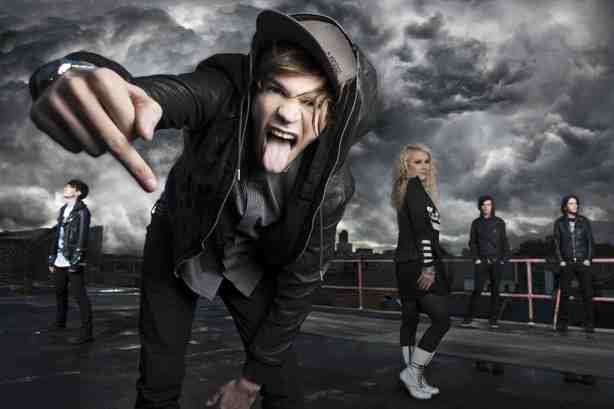 Hadouken is a word well known for gamers around the world, being a movement in Street Fighter. Were you the kind of teenagers that spend all their money and hours at the arcade saloons trying to defeat Mr. Bison? What are your favorite videogames that you are playing lately?
Yeah we were all big into gaming as children. Since being the band we haven't had as much chance to play as we would like but we do have a Playstation 3 on our tour bus so we play a lot of Fifa on there and we have Xbox's at home which are used mostly for Call of Duty and Assassins Creed at the moment.
You have just recently released your follow up album "For the Masses". What can the listener expect from it, if you have to resume the spirit of the album? In what ways is similar or different to your debut one?
We like to think this album is a big step forward from our debut release. It has a darker and aggressive tone and it is hopefully a lot more sophisticated musically. We've learnt a lot from the last three years of touring and we've grown up and changed as people so it's naturally that the album is different to the one we made three years ago.
Why did you decide to record it in Holland?
We recorded in Holland because that's where Noisia, who produced the album, have their studio. Noisia remixed a couple of our tracks on the first album and we really liked what they did so they seemed like the obvious choice to get involved in the new album. They are phenomenally talented guys and so we were really pleased when they agreed to work on the whole album.
During the last months, you can read and hear always comparisons of Hadouken with bands like Prodigy or Chemical Brothers. Do you consider this good (being compared to these huge successful bands) or do comparisons annoy you?
We're obviously big fans of those bands and they influence our music in a big way, we've got a long way to go before we've achieved anything like what they have.
How did it come the idea of creating your own record company, Suface Noise Records, even before Hadouken would have any album released? Did you have clear you did not want to depend on any other company?
The Leeds music scene that surrounded us at that time was very DIY based with lots of small record labels and bands looking after stuff for themselves so it seemed like the natural thing to do really; we saw plenty of other people doing and thought there was no reason why we couldn't do the same. We really like having the freedom to do whatever we want and be fully in control of the music we release and how we come across to our fans.
"The new album has a darker and aggressive tone and it is hopefully a lot more sophisticated musically"
What is your opinion about the music business nowadays, and the large amount of illegal downloads of music?
The music industry is obviously in a rough way and old fashioned record deals with big record labels no longer work for the vast majority of bands. If you are a massive pop act and sell millions of records you can get by but most bands need to find a new way of doing things. The illegal downloading is a shame but at the end of the day there is nothing that can be done to stop it so as a band you just have to be pleased that people are listening to your music and hope that they financially support the band in some other way, by coming to a gig or by buying a t-shirt for example, as without some sort of income no band could afford to record or go on tour.
Your music finds a great way of finding audience using new technologies and websites like for example YouTube, where your videos get a lot of visitors. Is it easier nowadays for new bands to find their own place, even without a big company backing them up? Are you assiduous users of social networks like Facebook, etc?
Yeah we use social networks a lot; it's something that comes naturally to us because of our age. I think the vast majority of people who know our music discovered us through word of mouth online, by people sending links to our Myspace or to our videos. It is definitely great for bands that this is an option and they don't have to rely on a record label to put expensive adverts on TV or big billboards up for people to discover their music.
Being James and Alice a couple out of stage, and you and Nick brothers, does this change anything in your work and everyday life? Do you have a special bond with more things to share being part of the same band, or does it turn hard sometimes to separate the band and private life offstage?
I think having a couple and also two brothers in the band is actually advantage as because we all know each other so well anything that needs to be said in a rehearsal room or in a meeting can be said and there isn't any awkwardness.
What are your hobbies or other activities when you do not dedicate time to the band?
James is really into art & design, Alice is a big film fan and I'm really into video editing, but I think outside this band we still probably spend most of our time on music, we all have various other projects under way which we spend time on when off duty with Hadouken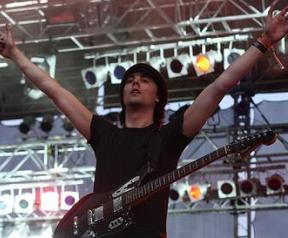 Is there any particular band you would specially like to tour with?
I think we'd really like to tour supporting Pendulum, we've done some festivals with them and they're an amazing live act and we can learn a lot from watching them. I think we have a lot of shared fans so it could work out really well
Being videogame fans, and with those catchy tunes, it seems that some of your songs could fit very well in a videogame soundtrack. Any project of working with the videogame industry in the near future?
Yes we're in talks with various companies about using our tracks on their games and also potentially performing at gaming events. We always see people putting up videos on Youtube of them playing games like Call of Duty with our tracks playing in the background so people obviously think they make good soundtracks to big killing sprees.
What are the plans for Hadouken for the rest of 2010?
We've got our first few summer festivals coming up in the next few weeks which we're really looking forward to. After festival season is over we might go back out touring on our own or we may just get on with the third album as the first few songs are already being demoed at the moment.
Anything you want to add for the readers?
Thanks for reading & if you don't know us check out our new album For The Masses!
For more info, visit:
http://www.facebook.com/pages/EA-Trax/6280105731?ref=ts
HADOUKEN TURN THE LIGHTS OUT VIDEO