Efterklang is a generous band. Before even starting their set at Von Krahl, they showered their love of Tallinn upon the audience, instantly putting everyone at ease. The tension that had built up before the sold-out show, as the crowd waited to hear Efterklang, gave way to a positive energy that fueled the band. They are dynamic performers, and most (if not all) of the band members are multi-instrumentalists. A talented bunch, and I'd happily go to several of their shows during this tour (come back to Tallinn, Efterklang!).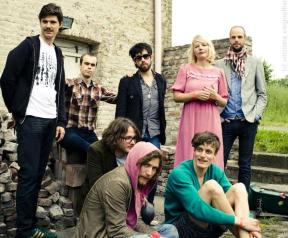 The new album, Magic Chairs, is strong and beautiful. And the live performance of those songs added an extra dimension. My personal favorite on the album and during the show was Modern Drift (which you can listen to on the band's website: http://www.efterklang.net). Give it a listen, and then imagine it live and ten times better. Or get thee to one of their shows (http://efterklang.net/home/concerts), as they'll be touring through August.
Aside from the enthusiastic performance, the two highlights of the show were the unveiling of a new light system (something you'll just have to see in person) and watching the bassist climb from the stage up to the balcony where he waded through the crowd, stopping right in front of me before he began clapping to add a bit more electricity to the set. I admit I was slightly concerned that the balcony railing would not hold his weight during the climb. Fortunately there were no catastrophes, and it was easily the best concert I've been to this year. I have a feeling I'll be saying that even in December.
Efterklang performing Full Moon at Von Krahl