The finalist of Finnish Idols 2005 is back with a second Studio album!
After her debut album When the Night Falls in 2006, Agnes, the Finnish singer with Polish roots, is back with another metal album. Actually, opposite to what happens in my native country, Spain, where all the Idols singers are cut by the same mainstream pattern, I even dig this singer! Finland is the country of metal, so people like Agnes and Ari Koivunen keep showing that you can even extract great metal singers from a TV show that anywhere else in the world would suck.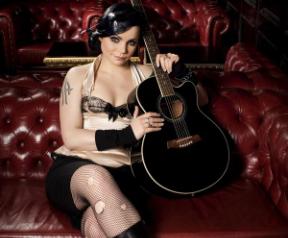 Redemption is a pretty fine melodic metal album. Agnes has great vocal skills and the songs are catchy and well structured. Powerful enough to catch the attention of big masses, although of course, do not expect raw melodies here. Everything is measured. Nevertheless, as I said, after listening to it a couple of times, I liked it very much, with great tracks like For Your Redemption, Don't fall in Love or the final Tears with a Smile, sang with Ancara, that from my point of view is the highlight of the whole album.
A good melodic album, that can reach both the old metal fans or the young female Emo followers of Paramore.
Rating 4/5