British L.R. Phoenix on the vocals/harmonica/guitar and his partner Mo' Hell are not born in some neighborhood near Missisippi where rednecks would carry guns like children would carry lollipops, but in England, and what is even more weird for blues musicians, they are settled in Finland.
Let`s be honest, blues is not the mainstream style of music in Finland, a country where when you kick a stone, they appear magically three or four new hard rock and metal bands. Even that applies to me, in my personal taste; I listen to mostly rock and metal bands. But nevertheless, quality does not know of styles. And the follow up album to their debut Wrecked, released a couple of years ago, is a great blues album that will catch your attention from the first riffs of the opening Shake Them Down, one of my favorite tracks together with 90 Days in Jail.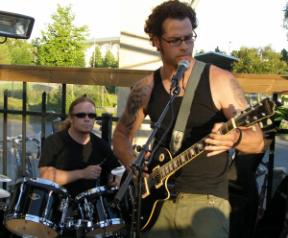 The style of the band is quite straightforward, and can sound raw for some moments, but in any case, that seems to be the spirit behind them: a direct shot of blues to your stomach. You can like it or not, but this is what they like playing, and they deliver it without the need to be subtle.
Their musician friend Honey Lake collaborates with the duo in three of the tracks playing violin and with vocals in an album that pays openly homage to their hero L.R. Burnside; nevertheless, the album is named Jumper on the Line as a tribute to him, with a more than decent cover song as the 7th track.
Phoenix & Hell shows to Finnish rockers a little lesson about the origins of hard rock in blues music. If you do not remember about them, try to listen to that little Australian band called AC&DC, for starters…
Resuming, Jumper on the Line is a very good blues album that is enjoyed fast and furiously, like a cold beer in your hand on a hot summer night. If you like blues with roots and guts, and you are open minded enough to admit that blues can come from more places than USA, this album is for you.
Rating 4/5
Jumper on the Line – Tracklist
1. Shake Them Down
2. Don´t Want No Skinny Woman
3. I Swapped My Wife For A Used Coat
4. Boggy Pine
5. Freight Train
6. Keep Your Hand Off My Woman
7. Jumper On The Line
8. We Got A Thing Going On
9. Going To Memphis
10. 90 Days In Jail
11. Truely
12. Watermelon Skies