Leo Christer Friman, aka Freeman, is a legend in the Finnish music scene. Starting his music career in a band called Waterloo, he reached his peak of fame in the 70s with songs like Ajetaan tandemilla or Osuuskaupan Jane that are still very well known for the younger generations of Finnish audience.
Freeman only released three studio albums, the last one in 1986, dedicating himself later to other duties in radio and television. It does not happen every day that a legend releases a new studio album 25 years after the last one, but here we have Freeman 4. For celebrating such an event, Freeman gave a great release party gig at Tavastia where played old and new songs, with the good company of other Finnish famous musicians like Ismo Alanko or Lauri Porra. I was there, and I can say that Freeman is as much enjoyable live as when you listen to his new CD.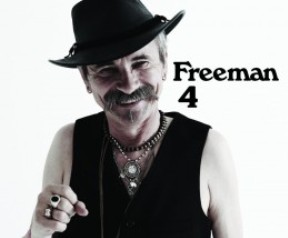 Because yeah, Freeman 4 is highly enjoyable. Opposite to the melancholic feeling that dominates most of Finnish music, Freeman´s songs put you immediately I high spirit, a 60 years old musician who keeps the energy and cheerfulness of a teenager (maybe his predilection for running long distances in his free time keeps him like that). I would say that some of the best tracks of the album are just the initial ones, songs like Mitä sinulle kuuluu?, Sirkusihmisiä (my favorite one) or Mattiolaituri make you move your feet almost automatically, transporting you to a happy place with a cold beer in your hand and a smile on your face. I am sure they will become instant classics in house parties all over Finland during the next years.
Freeman looks and sings like a kind of nutty professor from a Disney movie who invites his pupils to leave the classroom and dance in the courtyard. And certainly it is an invitation to move your feet that you cannot refuse with such a brilliant comeback album! Very recommended!
Rating 5/5
Freeman – Ajetaan Tandemilla (1976)