There are many movies whose main scenario takes place in a concentration camp. Most of them are harsh and touchy, although a few can even explode some sense of humor like in the genial La Vita É Bella from Roberto Benigni, but certainly, In Tranzit offers an idea a bit fresh and different from what you could have previously have seen.
Based on true events, it narrates the life in a Russian transit camp one year after the end of Second World II. The camp, warded by women, receives the unexpected visit of a group of male German prisoners.
The movie turns into a great essay of human nature, where hate, love, hope, and physical need for human contact gets mixed, forgetting about the dark past. I enjoy every moment of it, although most of it is just shot inside the fences of the camp. There is always expectation for something new to happen, and the interactions of the people sharing the camp are fantastic to follow, subtle but deep.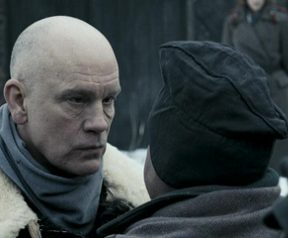 The cast is another strong point here, with both main characters Vera Farmiga and Thomas Kretschmann having a very strong charismatic presence in front of the camera. And if we talk about charisma, what to say about the intervention of John Malkovich… just perfect in his role of sneaky, cruel but witty NKVD colonel. The only actor who does not convince me is Daniel Brühl (who by the way is half Spanish half German). I had the same feeling when I saw him in Tarantino´s Inglorious Basterds; I just do not see him in those roles as tough soldier.
If you like movies about war with an intelligent plot, this In Tranzit will be refreshing. It is true that the end can turn into a bit dissappointing, but all in all, it will entertain you and feel identified with the characters, suffering and enjoying during their stay in Russia, all over the movie.
Rating 4/5
The best: Thomas Kretschmann
The worst: Daniel Brühl
The detail: Kretschmann trained as an Olympic swimmer in East Germany before starting his career as actor
In Tranzit: Scene with John Malkovich