Jenni Ahtiainen belongs to the new wave of young fresh Finnish designers that keep up with the high standards and international reputation of Finnish design around the world. With the music always as inspiration, her designs have been worn by rock stars such as Ville Valo or Michael Monroe and appeared also during the last Golden Globe Gala Awards. FREE! Magazine met Jenni recently and was able to ask her a few questions about her designs, hobbies, passions and future plans:
Hello Jenni and thanks a lot for your answers beforehand! When did you discover that you had passion for design, and particularly for designing neckwear? Had you also experimented with other arts or fields in design?
My label gTIE started out accidentally. I was a boyish girl in the beginning of year 2000. I was wearing black shirt, black jeans and black 50s' style shoes. Every day, in every occasion, every day, every night. Then in 2006 I turned 30 years and wanted to celebrate it somehow. So I got an wild idea: no trousers, but a skirt with a tie. The skirt was my statement, not the tie. The tie designed for myself was just a something boyish enough to be able to wear a skirt. Without the tie i would have looked too ouch of a girl. Those days I didn't wear necklaces or earrings at all. After sewing this one tie, i started to think about the fact that men don't have that much of variations in neckwear possibilities.
One night I was jogging in my home street where also lives one of the most famous stars of Finnish rock scene; Ville Valo, the vocalist on HIM. While i was running i started to think about what he would wear for a tie, if he went to a party where he is supposed to dress more formal way. My imagination brought this weird looking lace scarf in front of my eyes, and when I got back home, I made it. I sent it to him, put a not beside the scarf "I designed this for you cristmas celebration party" and the guy put it in independence day party at the presidential hall. Media saw it, wrote about it, made stories in papers about it and that's how gTIE was born.
Before I was working as a graphic designer. I was designing book covers, web pages, logos, details for visual marketing, and now, I'm basically hanging around the same context, just that the details are around people's necks, not in corners of posters or company web pages.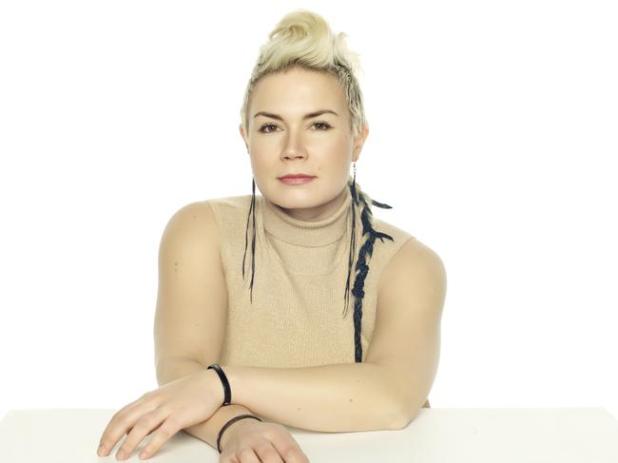 In your latest collection My name is Kenneth. What's your problem? there is a clear influence of your favourite rock bands and artists in the designs, naming them after those ones. Is music a very important part of your life and an inspiration when designing?

My latest collection My name is kenneth, What's you problem? collection models are named by the artist and bands I have listened and which I appreciate, but also because they have their own kind of historical style genre I find interesting. I get my inspiration from music. I do everything with music, I mean everything. I was born with music. Thanks for my dad who had loudspeakers in every god damn room at our house. It depend on the feeling I have at the moment what kind of music i need to act. If i need to focus, I usually play music without any lyrics. If I go jogging, it has to be power – even aggressive – music. I was asked to go to Iceland to keep a course for children, and the idea was to play different kind of music, different kind of genres of music to them and to see what happens in the imagination and thirdhand works. We didn't get funding, so maybe we'll make it happen next year.
Are there artists-bands that you would like to dedicate new designs in the future?
The models I design and make in the future are of course surrounded and surely inspired by music too, but I have no idea yet am I going to name even one more model after any musician. I follow my guts… so nothing is complete, until I get the idea in my head what the model looks like. But one thing is a fact, I feel my stuff belongs next to music. Not just because I get inspired by music and its artists, but because it feels right and natural. Performers have a right and also a kind of a obligation to dress up more visual way than ordinary people, so that's when I step in the picture. I'm quite good in visualizing what they like, and would look good wearing without losing their credibility.
During last year, Helsinki was the World Capital of Design. What makes this small and cold country such a good place for successful designers to pop up so often?
I think finnish people are survivors. We have a lot of strength – when we really want something. We can deal the cold weather as well as bad financial circumstances.
"I do everything with music. I was born with music!"
What other young Finnish designers would you recommend to follow?
There is 2 designers I recommend on following: Outi Pyy and Mert Otsamo.
You collaborated recently with your designs in the gala of the Golden Globes Awards in USA. Could you tell us more about it? How that collaboration happened and who was wearing your models?
I went to show my designs in pre Golden Globes in January, because I was asked to. They found my label from a fashion fair 2011 and were following me through internet over one year and then contacted me. First I thought it was just junk mail, but after doing some research, I found out from two of my friends, that it wasn't actually a joke. So I went there, got t know real people, but mainly few really important contacts. I'm going back to LA in the end of April. I'm gonna meet few actors, one producer, one director and some contacts from commercial field: I'm gonna get gTIEs women's collection in one store and men's collection to another store there.
What do you enjoy doing when you are not working? Do you assist to a lot of live music gigs around?
When I'm not working, I'm writing, and drinking some beer like some finnish people do. I go and see gigs, summertime I ride a motorcycle, sports keep my mind straight and makes me like myself more. I love singing. If I get blind, for some reason, I will be a singer.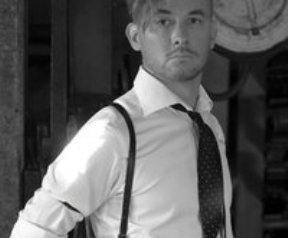 What can you tell us about your own label gTIE and other collaborations you have around, like for example with Matex Oy?
gTIE turns next week officially 6 years. What I do now for my living is just great. Besides designing for men and women with my own label, I design a men's line for Matex Oy, the biggest and oldest finnish tie company. I don't design ties there, but substitutes for ties. Basicly the same thing I do for gTIE but more mainstream way. Matex has the marketing contacts to all biggest stores in Finland, such as Stockmann and Sokos, so as a designer i don't have to worry about selling strategies and all that "shit", i can just design. Matex has a lot more powerful engine in their vecihle comparing to what I can do inside of my own label. They offer me a possibility for example to desing my own fabrics. In my own label I don't have that kind of possibility, mainly 'cause of financial facts.
In the end of March, we publish a new collection for men with Matex named as White Wedding. It's a wedding collection. And as a designer, I'm gonna make a statement with it aswell. In Finland gay people can't get officially married, they can just register their relationship, and I think it's stoopid: First of all it's against the basic human rights and second, it is jurydic idiotism not to have the same law rights that hetero sexuals do automatically when they get married. So I'm gonna shoot part of the collections catalogue pictures with gay men.
Besides working as a neckwear designer, I have lot's of product collaborations going on for example with Radio Rock (national radio station in Finland), City of Pori (my home town, they're actually my sponsor and I'm writing a blog for them) and Porispere (rock festival in August).
I design also clothing for theatre projects, for dancers. For example Aftertaste (2012) and Kaksin käsin (free engines translation With Both Hands, 2010) were my designs. Now I'm making a short movie with modern dancers called Surface Tension. I's coming out in Autumn. I design and style musicians, artists and bands for their videos and album cover shootings. Top finnish rock bands like HIM, Amorphis, Jari Sillanpää, Lapko and Michael Monroe have worn my designs. I also teach children and teenagers in art schools in Helsinki and Järvenpää. Mainly I do courses in arts and crafts. And all this makes me a really happy woman.
What are your next projects for this year 2013?
My projects for this year are of course making my brand break. I've done almost everything I can to make people know it in Finland. Now it's time to move forward. And for some reasons many signs show me the way to LA. One of my biggest projects besides my ow label this year is doing the whole clothing design for one movie which had a funding from Hollywood. The shooting time is not clear yet, and anything can still happen with that project but if it happens, I will be even happier woman.
Anything to add for the readers?
I would like to say: Believe it, you will get it. The most important sense is intuition. You just have to learn how to hear it. And believe in it. It's in the guts!