Irish musician Steafán Hanvey feels in Finland like being at his second home. Nevertheless, during his bohemian life, he has spent a few years in the Scandinavian country making friends, playing gigs, and finding always new challenges. So when we sit with him minutes before his gig at Semifinal, he is just a relaxed easy going man transmitting the feeling that he enjoys what he is doing. As good Irish, he is holding a glass of whisky, and when more pints of beer join our table, it is about time to have a chat about his interesting life and musical career:
Thanks for your time Steafán! Basically, you were born being a musician. Your parents were also musicians, right?
Yes, my father was a banjo and guitar player and my mother is a singer and a plays also the bodhrán, the traditional Irish drum and stick, she taught me how to play that. My father interviewed a lot of famous musicians and took a lot of photographs of people visiting around; so it was normal to be around people who were involved in music.
And you happen to have been quite a nomad in your life, don´t you? You have lived in Seattle, then in 1995 moved to Helsinki… Why the decision to come here first time?
Yes, I have been some kind of a gypsy. I was in USA as exchange student, I chose Seattle because I was interested in the place, it was an opportunity to study American society; a good opportunity for me to be there so I studied at University.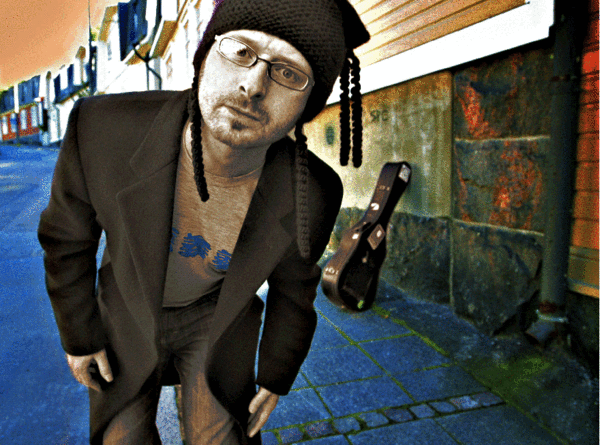 And how did it happen to come to Finland?
I met a Finnish girl in 1993, actually she came to me like "hey, you are that Irish guy!". I finished my degree and then came here. So I came to Finland to study and started to play in the bars and get to know people around in the Finnish-Irish community.
Sometimes, being Finland a small country, can be difficult to break through the right circles. Did you feel that at any point as a musician here?
I got you. The first year I was mainly singing in traditional bands, playing at the Irish pubs, parties, some art galleries and then I started writing my own stuff. I felt that if I stayed, I would have become a big fish in a small pond. I would have been known like that Irish guy singing in the bars in Finland. I am not saying that I would not have become a success, but I wanted to try in other places.
Many of our readers are interested in Finland as a possible destination to move in. What was your response when you arrived here?
I like Finland. When you make friends, you make true friends. I still keep some of the friends that I had when I first came here. I also hosted a radio show in Lahi radio. It was a kind of progression for me, it came naturally to do. I had a lot of things to do, but then I felt a bit stuck, and I needed to go and decide what music to play. But it has been a good journey, I had very interesting periods with very interesting people I had the chance to play with. I feel now that I am more ready to take my music in front of an audience than I have ever been, more mature.
And both nations, Ireland and Finland, have fame for their hardcore drinking habits…
Yeah, hehehe. Hard drinking here and in Ireland! I cannot keep up with it anymore, I used to do it for years, but now at my age, it is different. The same about smoking, I quit.
I feel now more ready to take my music in front of an audience than I have ever been
What can you tell us about your new incoming album, "Nuclear Family"? Are there differences with the previous one, "Free"?
It is an album that introduces more of a band, there is more upbeat. Overall, it is a more compact album. Maybe with the previous one, I felt like "let`s see what I can do and what I can´t", because of course in the first album you want to show all the people what you can do. But with the second album, I just create the record I like. Much more relaxed. I learnt a lot from the first record, I worked with great people, but in this album I have got to work with Tore Johansson mixing the album (who worked with the Cardigans) or with Mandy Parnell mastering it (who has worked with Sigur Ros). It is great to have those people working on your music.

And you also have friends like Liam O'Maonlai collaborating on the piano and vocals, right?
Yes, Liam came to Paris! And also Bertrand Belin, who played lead guitar on one song.
You also have played in USA quite a lot…
Yes, I have played there a few times. And I have some gigs scheduled for March-April in Boston and maybe in Chicago too. Let´s see how long I can be there.
The presentation of your first album was also here at the same club, in Semifinal, some years ago. How do you feel coming back?

That day there was a terrible snow storm. Thanks god today we are luckier. That day some people got stuck in the buses, and had to walk to reach Semifinal! Let´s see how it goes today, I have no idea really! If I play during weekdays, people complain that I have to put it together at weekend. But if I play on Friday night at 11:30, they complain that it is too late! Hehehe
Anything you want to add for the readers?
I want to add that thanks to everybody and also special thanks to the musicians playing with me, great guys, Neff Irizarry on the guitar, Nicce Lindholm on the drums and Jukka Jylli on the bass.
Steafán Hanvey & The Honeymoon Junkies