There is no doubt that Gogol Bordello has been able to gather a good legion of fans during last years, due in great part to the charisma of their vocalist Eugene Hütz. This fact is also noticeable in Helsinki, where the venue, being the concert originally projected to happen at Tavastia, had to be moved to Kulttuuritalo to hold a bigger audience.
Actually, it would have been much better in a smaller venue with a more "underground" tone, like Tavastia or Nosturi. Kultturitalo looks very cold to hold concert that are not about classical music, and besides, the acoustic there usually sucks.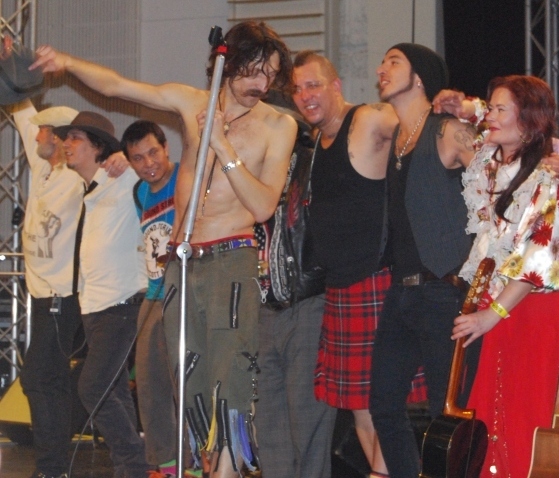 We arrived on time to see the opening band Devotchka, and I have to say that although I enjoyed their music, it is not the kind of band that suits for opening a Gogol Bordello gig. Their music turned to be too slow and "intellectual", but the audience was receiving it quite coldly.
After going for a couple of beers, during the start of Gogol Bordello concert, one could have imagined that had been magically moved to a different venue. The place was crowded, and the audience got totally crazy during the opening song Tribal Connection. Hürtz is a magician when about connecting with the public, and Gogol Bordello, with his catchy mix of ska, punk and gypsy riffs and their multicultural and multilingual messages, turned this cold venue into a big party, with the people singing and jumping like there is no tomorrow, enjoying especially in classics like Wonderlust King or American Wedding. I don't know about the people sitting behind on the seat rows, but it is almost a crime to go to a Gogol Bordello show and not to be in front of stage jumping like crazy, although a few teenagers took that to the extreme of thinking that every riff was worthy of acting like being in the middle of a mosh pit in a death metal concert, and turned to be a bit annoying for the people close to them.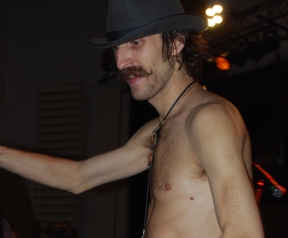 Hürtz invited some fellow Finnish musicians to join him on stage, and all together ended a very long encore, that resumed the concert in more than 2 hours of great music and fun. Audience really got back the price of the ticket, with Eugene having no problem in staying a few more minutes on stage greeting people and shaking hands.
Gogol Bordello gave a very consistent show, transmitting the message of a band that has fun on stage, and make people have fun with them. You cannot ask for more than that when assisting to a gig!
GOGOL BORDELLO SETLIST HELSINKI 6 DECEMBER 2010
1. Tribal Connection
2. Not A Crime
3. Wonderlust King
4. My Companjera
5. Last One Goes the Hope
6. Trans-Continental Hustle
7. Immigraniada (We Comin' Rougher)
8. Break the Spell
9. Raise the Knowledge
10. When Universes Collide
11. American Wedding
12. Lela Pala Tute
13. Start Wearing Purple
Encore:
14. Sun Is On My Side
15. Ghost Riders in the Sky
16. Mishto
17. Baro Foro / Undestructable
Photos: Andriy Kozyura