A new teenage comedy is here, directed Miguel Arteta, and starred by the new king of the genre, Michael Cera. When I saw the cover of the DVD, I had high expectations. The cast was looking superb, but honestly, I had to say I was disappointed. Great actors like Zach Galifianakis, Ray Liotta, Justin Long or Steve Buscemii are just wasted here, with a few minutes on screen that hardly add anything to the plot of the movie.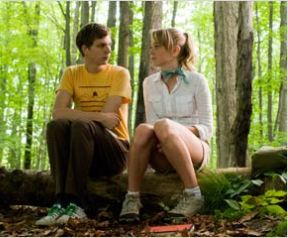 The plot focuses pretty much on Michael Cera and his double personality as sweet innocent virgin teenager in love, and his dark side as mischievous trying to gain the love of the girl he met on summer. Well, Cera is credible in that role, because basically he plays the same role again and again in almost every movie, but maybe it would be about time for him to change a bit the register. Many people compare him to Jesse Eisenberg, but I think the latter one is making a better choice in his appearances lately, with little jewels like Adventureland, Zombieland or The Social Network, and a wider variety or registers to show.
Apart from a couple of situations, the movie is not funny, when pretends to be. The chemistry between Cera and Portia Doubleday does not work on screen, I would have personally prefer to center the plot at the initial steps, with a shy Cera overwhelmed by the cheeky new beautiful girl, but when the couple is separated, magic is missing.
Although the new wave of teenage comedy is trying to explore deeper humor than the easy jokes about sex and eschatological moments of American Pie, here the makers fail. A pity! It could have given much more to the spectator with such a cast!
The best: The car falling into not so deep water when Cera is trying to escape from police.
The worst: Galifianakis role could have given much more if he had been allowed more minutes on screen.
The detail: Do you also confuse Cera and Eissenberg when you see them on screen? It seems that happens to many watchers who express themselves
Youth in Revolt – Trailer