There are bands where you feel the passion involved in the music they do in every detail. I must admit From Below just started to gain my heart from the moment they contacted me and put a smile on my face sending a very special copy of their second album to review. And if added to that, what you listen through the 10 tracks of their latest album no gods no monsters is just honest powerful music that pumps into a system like a good old shot of adrenaline, I cannot say less than this band got a new more fan!
New Yorkers From Below are Cero Cartera on the vocals, Tom Hoy as lead guitarist, Chika Obiora on the bass and Ian Costello on the drums. What you get from the introductory track Carnivore is a good doses of indie rock, distorted guitars and the voice of Cartera sounding natural and powerful, with no overdoing his singing skills but just mastering a tone while singing that surrounds you in loops that leave me a mixed taste of rage and sadness, maybe same as life feels… (damn, I am feeling deeply philosophical tonight).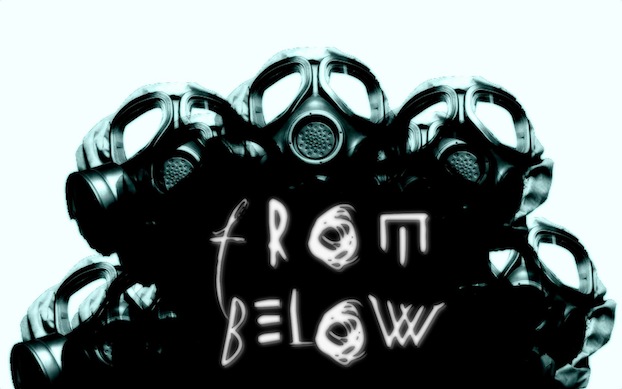 After the second homonymous track From Below, the band slows the pace one notch to become more introspective and psychedelic with The Ledge and with one of my favorite tracks in the whole album: Stay, which has great lyrics and Cartera's voice advancing slow but straight like an arrow while the guitar riffs in the background are in sync perfectly with the melancholic atmosphere.
After that point of inflection in the album, the band spread again its wings of mischievousness and more raw punk side with At First Sight, a track that can put your feet into motion 2 seconds after the start followed up by the longest song in the whole album, The Violence in Silence, that starts with a much bluesy tone than previous tracks during the first half of the song and then magically evolves into an orgasmic chain of amazing guitar riffs after 5 minutes. I swear to god that the track would sound and feel perfect in a climatic end of a science fiction movie (if there is anybody from the film industry reading this, check this one out). Undoubtedly, my favorite track from the album!
Last couple of songs, Blood Money and Psychoacoustics, just transport me mentally to a small dance floor in some dark rock club where you can lose your thoughts among sweet, beer, smoke and of course this good rock music. In fact, I would say that most of the whole album feels so close and intimate in a way that I just feel I want to see the band playing in a small size venue where I could feel the amplifiers a few meters away from me.
Because I do not want to go "super flattering ass licking mode" in this whole review, if I have to find a "but", I would just point my doubt about if the big strength of the band could be also their biggest weakness: to feel so solid like a small venue band. Pretty much in The Violence is Silence is the only song where I perceive ambitious to create a bigger work being played in a bigger venue for bigger audiences. On the other hand, it seems the guys just enjoy doing what they do so far, having fun touring the NY clubs scene, making friends, enjoying their music and keeping it real. As far as they do as good music and they achieved with this album, I take my hat off to them!
Rating: 9 / 10
Tracklist
1.Carnivore 05:29
2.From Below 04:18
3.The Ledge 4:13
4.Stay 06:01
5.At First Sight 03:35
6.The Violence In Silence 10:20
7.Blood Money 01:58
8.Psychoacoustics 06:10