The Finnish summer is light, especially at the beginning: all the leaves on the trees are light green, the air is warm, but not yet the water. The whole landscape looks untouched. Then comes July: hot and long days with melting ice cream. At the end of August, the sun is still hot, but the colours have changed: the trees are all deep green. Maybe you will see the first yellow leaf. But even if there are signs of the next season, we still usually have an Indian summer.
The Midsummer holiday, Juhannus, is the year's shortest night and most important occasion for drunkenness and revelry. It is time to escape the city. Most of Finns go to their summer cottages in the countryside and have bonfires (called kokko) by the lake. If this doesn't appeal to you, there are lots of festivals, where you can find loud music, new friends and bonfires too. A lot of Finns start their summer holidays on Midsummer Day and after that much partying, a few days off would do some good for pretty much anyone.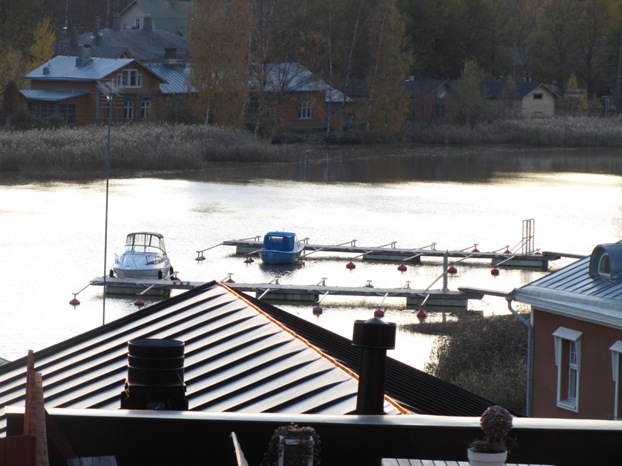 Juhannus used to be more serious affair than it is in these days. During pagan times, midsummer was a very potent night for rituals, which concerned future marriages and fortune. Many of these rituals were made naked. Will o wisps (ghostly lights sometimes seen at night or twilight that hover over damp ground in still air, often over bogs) were believed to be seen on midsummer night, marking treasure.
I also remember one midsummer ritual that I used to do when I was a kid: I collected seven different kinds of flowers and ran around our well. I slept with the flowers under my pillow and hoped to see the man of my life in my dreams. And I remember how disappointed I always was the next morning when I couldn't remember my dreams!
Summer happenings
There are lot of festivals and smaller summer happenings going on every week all around the country. Music festivals are especially popular here, and Finnish artists hardly have time to take their own holidays! Whatever kind of music you like, there will be a festival where you will hear your very favourite tunes. Just pick your melody. For example, you can hear rock in Turku, jazz in Pori and tango in Seinäjoki.
In addition to music festivals there are other happenings for everyone. Do you like sailing? Then sail to Kotka in July. Are you big fan of eating small herrings? Visit the Fish Market in Turku.
Do you think that Finns and their ways are odd sometimes? You are right and if you like that weirdness, you will love the Finnish summer, because Finland is an empire of weird summer happenings. The top 5 strangest happenings to mention are: the wife carrying competition, football played in a swamp, the mosquito killing competition, and the contests for who can sit in sauna or on top of an ant's nest for longest!
Already internationally known, wife carrying is the sport of carrying woman; a wife usually. Several types of carrying are allowed: piggyback, fireman's lift, or Estonian-style (the wife hangs upside-down with her legs around the husband's shoulders, holding onto his waist). The major wife-carrying competition is held in Sonkajärvi, where the prize is the wife's weight in beer! Yes, that is really something to see!
Summer in the city

Are you too busy to leave the city this summer? Don't worry; there is lots going on in the city as well! There are hundreds of terraces, great beaches and islands to visit: all just right here, in the heart of Helsinki!
Suomenlinna is an island in front of Helsinki. It is a UNESCO World Heritage site and a very popular picnic site among tourists and the locals. The ferry that leaves from Kauppatori will take you there in only 15 minutes. There are other islands to visit as well: Uunisaari, Korkeasaari (the zoo) and Seurasaari. Or you can visit another lovely town, Porvoo, from Helsinki by boat as well. The most popular beach in Helsinki is Hietaranta, where you can see all the white Finns burning themselves all summer long. Other good beaches are in Munkkiniemi and on most of the islands mentioned above.
In summertime the place to party is Kaivohuone, where you can fine the trendiest people in town and a very large terrace, big dance floor, and on Wednesday nights, the pool is open too! One of the biggest terraces is on Mikonkatu and is a combination of several bars' terraces. You will find the best views on the terraces on top of the tallest buildings in Helsinki, such as Torni and Palace.
Northern lightness
If you get sick of city life, I strongly recommend you to take a hike! Literally! Lapland is well known for its ski resorts, but it is a unique place to visit in summertime as well. The landscape and wildlife are well worth seeing. You can do different kind of activities: river rafting, fishing, hiking and hunting. And what makes Lapland such a magical place to visit is the white light around the clock: the sun doesn't set at all. At its longest, the nightless night in the north can last up to three months.

When you leave the city and its noises you will discover the real Finland: its lakes, forests and peace. The best way to travel is slowly and by bike, although public transportation is good in Finland as well. There are too many nice places all over the country to mention here, so the best you can do is to explore as much of it as possible and find your own favourite spot.