Chelsea's Agora Gallery will feature a Helsinki native artist, Hanna Westerberg, in Passages. The exhibition is scheduled to run from March 25, 2011 through April 15, 2011 (opening reception: Thursday, March 31, 2011).
About the Artist
Hanna Westerberg's latest works are monolithic in their stature. These large format pieces on canvas and okoume plywood stand as memory aids, documenting the artist's perceptions of spaces such as the Finnish National Theater, a prison, an old hospital and an airplane factory. Created on site, the works are richly developed gestural creations that communicate the broadest and most detailed of spatial nuances. Westerberg uses charcoal, tempera, ink, and oil paints to layer thin washes of coloration and grayscale tones in combination with scrawling line work. The effect is that of a line drawing, yet the prodigious scale gives the complex relationship between foreground and background an effect almost of vertigo. Westerberg controls space in her works, pushing and pulling the image from the viewer. Her intense use of drawing materials creates a strong sense of movement and action, even though these typically busy spaces are vacant of their occupants.
Hanna Westerberg lives and works in Helsinki, Finland.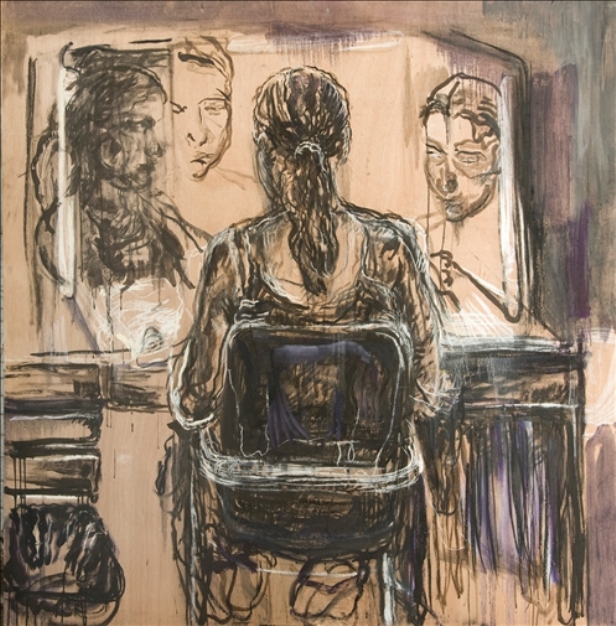 About the Exhibition:
Celebrate the spring with Agora Gallery's new series of exhibitions. Through Contemporary German Art: The New York Experience you can get in touch with the energetic talent of some of the best of German art today. Full of personal insight, yet containing universal understanding and appreciation, these artists use their cultural heritage to create unique and innovative pieces of art. In Degrees of Abstraction you can view the works of artists who get to the heart of the complex mysteries of the world as they treat everything they meet with gentle but creative respect. Delightful but thought-provoking, these images will resonate with something deep within. Passages presents artworks which speak of the life-changing and perception-altering power of journeys both personal and physical. Reflective of the artists' experience, they will also help viewers themselves to gain a new perspective on everyday life and humanity.
Exhibition Dates: March 25, 2011 – April 15, 2011
Reception: Thursday, March 31, 2011, 6:00 – 8:00 p.m.
Gallery Location: 530 West 25th St, New York City
Gallery Hours: Tues – Sat, 11a.m. – 6 p.m.
Event URL: http://www.agora-gallery.com/artistpage/Hanna_Westerberg.aspx