If just in our previous album review we talked about a great female singer, here comes another one from Finland. Frida Andersson is a 22 years old Finnish singer and songwriter who lives in Helsinki, although having spent time in the past living in Sweden (and having Swedish surname).
Together with her guitar, and a great orchestration (her producer Hannu Korkeamäki has done a great job here), she features her debut album, released at the end of 2009. A collection of 10 tracks that exhale a classy aroma of good music.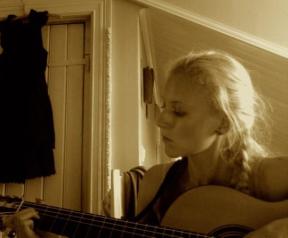 Although the melancholia is a predominant feeling in Finnish songwriters, Frida's album has a great cheerful general tone, even when talking about sad things. The songs could be perfectly used more like the soundtrack of an entertaining musical in Broadway than for crying alone in the darkness of your room. Tracks like the first Love Candle, Busy Missing You, Indian Summer (my favorite) or October Blue are just some highlights of this well-balanced album, mastered perfectly by Frida's candid and beautiful voice.
If you like artists like Katie Melua, you are going to enjoy this one pretty much. The CD shows good taste even in the art design, measured but with a touch of romanticism and class; an excellent debut album for a very promising and young talented Finnish musician.
Rating 4/5