Sarah June is an American musician that will certainly leave an impression on you. It is not easy nowadays, with the tones of new albums released every month, to find something fresh or shocking in music bussiness, but certainly her sophomore album In Black Robes, it is something surprising the first thing you hear it.
Just with an acoustic guitar and her voice, Sarah is able to create a kind of oniric musical experience. She sounds like a mischiveous teenager about to whisper a dirty secret to the microphone, but at the same time the lyrics can be really dark and deep. Goth folk? Certainly the style is not easy to catalogue, and that makes this album even more interesting.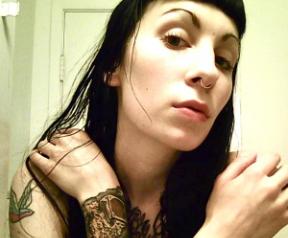 Maybe the best parts of the album is when the rythm turns to be more bluesy, as a perfect example you can listen to the sixth track Bluesy Melody, where June`s vocal skills just shine or in Fencepost. Some other highlights of the album are the introductory Cowboy or the tenderly beautiful Paper Lantern, my favorite of the whole album.
However, if I have to put a "but", I would say that the album could fall into sounding a bit monotonous after listening to it a few times. Sarah is skilled enough to show a wide enough palette of registers in the 13 tracks, but still, it would be interesting to see her beautiful voice going more experimental in the future (for example with a electric guitar…). In any case, if you like good songwriting and a female voice with a delightful twist, this album can be a great discovery for your collection!
Rating 4/5