Being a small country boxed in by bigger more aggressive ones is the fate of the Baltic three. Especially problematic is being on a highway between two of the biggest powers on the continent: Russia and Germany, who of course have been in control of their smaller brethren for large chapters in their history book.
To make geo-political matters worse, even middleweight neighbours Poland and Ukraine have had not been shy about sticking their noses and armies into inferior-sized next-door nations when the opportunity arose. But perhaps some of this was history's revenge for the Grand Duchy of Lithuania's episode as a regional power stretching from the Baltic to the Black Sea in the 13th-15th centuries. Nowadays safe in the EU's bosom and NATO, the country can relax if not let down its guard.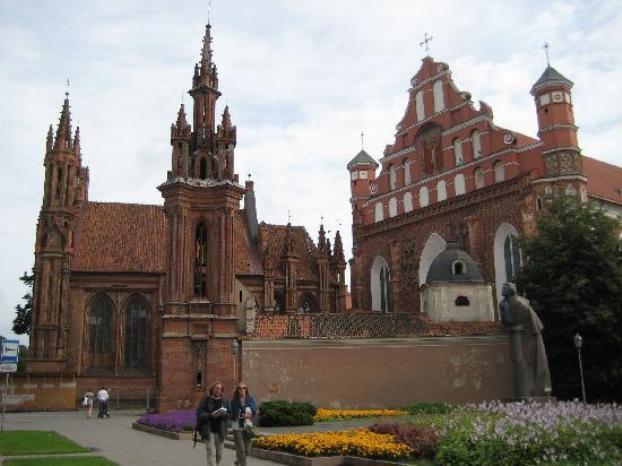 Time has left its scars as well as beauty spots in present-day Lithuania. The capital Vilnius gleams with (heavily EU-funded) restored churches, buildings and sites. Subjectively the most attractive of the Baltic capitals, its predominantly Baroque Old Town is the biggest in the Baltics with a reconstructed Jewish Quarter that bore the brunt of the Nazi and Soviet takeovers. The efficiency of the former saw 80% of the Jewish population exterminated within months and 95% exterminated by defeat in 1945 out of a total of 265,000 in various gruesome ways. What was left of the area was bulldozed by Soviet liberators – including the badly damaged centuries-old Grand Synagogue and its library containing irreplaceable Zionist tomes and documents.
After 1945, a few thousand resistance fighters fought an unequal and ultimately hopeless contest that still lasted for 10 years against Soviet forces, before being ruthlessly extinguished. This is also catalogued there and can be seen at the rather exaggeratedly named Genocide Museum. Otherwise, and more accurately, called the KGB Museum, it is the only former headquarters of the feared Soviet secret police in the EU with a starkly frightening exhibition of the methods employed and lifestyle of an inmate complete with a spine-tingling execution cellar.
Much needed relief is provided by a fair walk up the main drag Gedimino Avenue which bears the name of a 14th-Century Lithuanian Grand Duke. At the end is the Cathedral Basilica and Bell Tower that was a cinema not too many years ago. Lithuanians are overwhelmingly Catholic and somehow the country's Soviet leadership did its utmost to ensure they remained a majority in their own land. So a remarkable 80% of the population is of Lithuanian stock. Some achievement considering it has been a market place for traders at this crossroads where peoples have for centuries come from all over to settle and prosper plus the deportations and Russian immigration that occurred elsewhere. By comparison only two-thirds of Estonia's and a half of Latvia's populations are made up of locals.
One such example of successful transplantation is the Kairemes (or Karaites) who were brought to Lithuania in 1397-8 when the great hero Grand Duke Vytautas returned from a campaign in Crimea, bringing 340 families with him. They are a Turkic people whose faith is based around the Old Testament and other scriptures but who deny no religion. Once numbering in the thousands, there are now just a few hundred mainly in Vilnius and Trakai, where the two remaining 'kanesa' or places of worship are.
Just 30km from Vilnius, Trakai and its old castle are a must-see. The town contains, like most of the country, churches of different religions: catholic of course, but also orthodox, a synagogue and the kanesa. A walk up the main street (not a Herculean task) takes you past the points of interest such as St John Nepomuk perched on top of a pole, who has a myth behind his omnipotence. Sculptures and statues accompanied by a legend are a Lithuanian feature with fact blurred by time.
The castle is almost entirely re-built after invading Cossacks in 1655 succeeded in doing what was intended to be nigh impossible. But it manages to resonate with history and the objects on display are fascinating – such as the, literally, pots of money dug up by archaeologists containing thousands of coins. But peak season crowds may be a stumbling block to see it all at your own pace. Set in an islet on Lake Galvės, the bridge back has a splendid view of the Kaireme street, known as 'Small Town' with its wood houses fronted by three windows: one for God, one for Vytautas and one for the owner. Many now are restaurants (Kaireme are said to be a Jewish sect and so businesslike, but maybe it is a recipe for their survival) serving their cuisine and home-made brews which are just as popular with local as foreign visitors.
At the lakeside restaurant Kybynlar, meals start with a sort of pickled salad, followed by unleavened pastry pies containing lamb or chicken with herbs and vegetable similar to a pasty. These dishes are traditionally accompanied by krupnik, a herbal spirit drink with each restaurateur having his own formula. Now numbering around 250, possibly the EU's smallest minority has managed to retain their own language, just, religion (the kanesa is 50 metres away) and culture throughout tumultuous times, which is a testimony to their resilience and adaptability. For example, the guide of the Trakai kanesa, Michal Zajaczkowski, is a decorated Soviet war hero, former insurance man and publisher of the kanesa''s book and still sprightly at 86. Karaites/Kairemes are also known for attaining positions of high office way above their number. It now appears the EU and Lithuanian state may rescue them from the brink again.
Down the former Soviet Union's longest, straightest and flattest motorway is Kaunas, truncated Lithuania's capital between world wars. This pleasant city, the most ethnic Lithuanian at 93%, on the confluence where the rivers Neris and Nemunas meet, had celebrity thrust on it as Vilnius had been purloined Poland at the time. Naturally there are churches and sculptures aplenty with tales and 'lucky tricks' to improve your life, especially in marriage matters. For a country with a long Roman Catholic tradition, there seems a lot of ways to get hitched by talking, thinking or whispering to a piece of moulded metal or carved stone – usually of an animal. Seems suspiciously superstitious and/or pagan to the outside observer…
Lithuanians appear to like to call it a day about 11pm. Thus the nightlife can seem subdued to a serious party animal. Holidays like Mothers' Day appear to be followed by 24 hours of penance for whatever joy was had – or sins committed. But Kaunas seems to have escaped the worst of the war and Soviet takeover by comparison, though its original castle, like the one in Vilnius is just a symbolic wall section and tower.
The nearby Franciscan monastery (which somehow remained active in Soviet times) church of St George encapsulates what nearly 40 years of Soviet occupation and atheism is capable of. It looks alike a rave party was held there (coincidentally it was a Soviet dance studio), but instead of leaving it as a memorial warning to future generations, millions are to be spent renovating it although only 12 monks remain, one of whom sits there every day as a silent sentinel.
The Curonian Spit over the channel from the country's only port, Klaipeda, is for the get-away-from-it-all set. A long finger of land emanating from nowadays Kaliningrad (formerly Danzig), it has an amazing variety of wildlife (but bereft of the social kind) and geography that goes from desert dunes to dense boggy forest. Plus it has a border with Russia halfway along which can be viewed from the nearby dune peak, the Spit's highest point at 63m.
It's always attracted holidaymakers, especially the German intelligentsia between the wars who set up their headquarters at the Hotel Hermann Blode. German Nobel Laureate, the writer Thomas Mann, after spending a summer there as a hotel guest, built a holiday home in typical style and spent three summers there 1930-1932. Now a museum, it has the local characteristic: all the window frames are painted blue in the belief that this keeps insects away in summer. The local cuisine includes crow meat, if ordered in advance for those with adventurous palates.
Apart from this 'delicacy', the Lithuanian recipe book contains a few surprises for those who have faced the daunting dishes of Slavic cooking. Cepilinai (Zeppelins) are the dumplings that many countries in the region so revere from the good old farmhouse days. Tastier than those produced in neighbouring countries, it still looks many mouthfuls too much and finishing one (never mind two which may stare up at you) should be seen as an achievement of heroic gourmand, if not gourmet, proportions.
The cold beetroot cream soup and hot potato is a type of north European gazpacho. Fish dishes too are on the lighter side, but meat, and Lithuanians are as carnivorous as anyone, may remain cloaked in heavyweight sauces surrounded by fried potatoes. But the joy of Lithuania is its beer. For the connoisseur the offering ranges from light to heavy in appearance, volume, calories and effect. But all seem to have the common characteristic of freshness, liveliness and taste. There's even a 'Beer Road' tour for aficionados to go from one brewery to the next.
An international accolade came when Vilnius was designated European Capital of Culture 2009, one which the city fathers and state alike will spare no effort to make a huge spectacle to put their city and country on display. The people themselves will be as welcoming as they have historically been, who are remarkably accommodating to those who have rudely been in charge, but nowadays can breathe a little more freely.