I had read some years ago the original book by Japanese writer Haruki Murakami Tokio Blues (Norwegian Wood), and being a fan of Japanese movies, I was curious to see the adaption to cinema, carried away by director Anh Hung Tran.
But I must say that same than when I read Murakami´s books, that I find neither boring nor a masterpiece, I had the same feeling after watching the movie. Actually I personally reccommend other Japanese author, whose surname is also the same, Ryu Murakami, as I have enjoyed his style much more. Murakami is poetic and nice to read, but sometimes I find him a bit tedious. Just like this movie.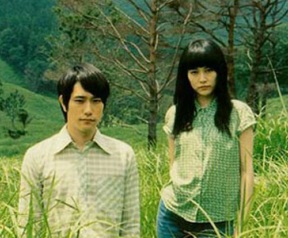 Of course it is not easy to adapt a book to the big screen, in very rare occassions the story ends in a success. Here with Norwegian Wood there have been some positive and negative sides. Photography is splendid, lyric, beautiful… The main character of Watanabe, portrayed by actor Kenichi Matsuyama, is also to my understanding very well achieved. At least he is able to represent all what is about to be a lost young Japanese student whose feelings are a mess, the dilemma between love and lust, between been faithful and acting crazy, between been social or lonely… All is there masterfully portrayed.
However, I think the film fails in portraying the female characters that sorround Watanabe. At some point, we miss the background story about their sadness, depressions and problems. They appear on scene like if magically impulsed to fullfill their loneliness by using Watanabe as a sexual partner. Too much poetic slow photography and too little development of the secondary characters. Maybe only Nagasawa, the cynic partner of Watanabe and unscrupulous womanizer, is the one that looks plausible to his role, since being shallow is the core of his character.
Not a bad movie all in all, but I must confess it turned to be a bit too long at the end; I do not enjoy the feeling when I start looking at the watch to see when a movie is finally going to end. A more solid screenplay strenghtening the female characters would have improved the final result dramatically.
Rating 3/5
Norwegian Wood – Trailer