Many tourists I talked to this last summer who were visiting Helsinki for just a few hours during their cruises were asking me if during their visit to the Finnish capital, they would have time to visit Porvoo. Unfortunately no, Porvoo is not just a neighborhood more in Helsinki, but a city apart, in fact, the second oldest city in Finland after Turku, 50 Kms from Helsinki.
The good news is that for the visitors in Helsinki who have more than a few hours, Porvoo is very easy to reach. Or it can be also people under my case, who have lived in Finland for a few years and never had visited it before. One way or another, Porvoo is the perfect destination for 1 day excursion if you want to see something new or different from Helsinki.
Obviously the easiest way to go to Porvoo is by car, but if you want to use public transportation, it is also fast and comfortable. Unfortunately there is no train line linking Helsinki and Porvoo (only one special summer line from Heinola), but buses run very often from Kamppi station, where you can also buy the tickets at Matkahuolto office. If you buy a return ticket for the same day, there is no discount due to the short distance, but it is still affordable, and of course students can get discount if presenting their student cards. If you visit the area on summer time, other great option is to go by boat in an organized cruise from the capital´s harbour.
In fact, there are two kinds of buses that go to Porvoo. If you do not want to miss time, you can take the direct one that will be there in a bit more than 1 hour. The other option stops quite often, so it will take double the time, but it is also worthy if you want to enjoy the landscape between both cities during daylight.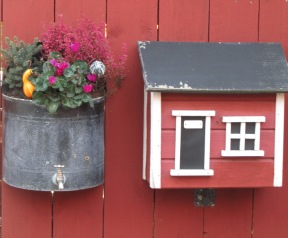 While on summer time the streets of Porvoo are quite crowded with tourists, I visited there one Monday in autumn, so everything was quiet. I liked the atmosphere; Porvoo has a special charm with many quaint little streets that look like the landscape in a postcard and nice little boutiques, art galleries and second hand shops (that had very interesting items, but pricey).
A city with a nice bohemian touch
Porvoo is bilingual with one quarter of its citizens speaking Swedish, and you can really notice the little higher touch of sophistication in every corner around. For culture lovers, there are a few highlighted points that you cannot miss like the house-museum of the poet Runerberg. Besides, the colors of the autumn were giving the city special magical tones.
If you want to make a pause on your way, I recommend Café Pahtimo, a very cozy place with a great selection of beverages and cakes, just located in and old storage building by the river, so you can also enjoy a cigarette outside in the terrace with a great sight. The atmosphere of its 2 floors reminded me of Telakka in Tampere, one of my favorite places to hang around when I lived and studied there.
Visit Porvoo and discover one of the most special places in Finland, now even more magical while enjoying the amazing array of colors of the autumn season. You will not feel disappointed!
Photos: Antonio Diaz