Since the idea of the Olympics going home for the modern games centenary in 1996 was mooted, the Greek government started spending to update its infrastructure. However, the plan flopped as the games only took place in their historical home in 2004 – just as well, as Athens was no where near ready to host them eight years before.
The extra time was needed, as the Greek psyche (just one of many Greek words English purloined*) is not about unnecessary rush, which excludes the traffic of course. But the capital city appears to work sometimes in spite of its citizens. This is an attraction and one of many undersold by the hydra-headed promotional bodies.
The introduction however is one of serene efficiency. The new, hugely expensive airport is gleaming, AC-cool, spacious and quiet. Sleek trains, easily the quickest and cheapest mode, smoothly whisk passengers into the centre with each station announced in Greek and English aided by route maps above each door for the deaf. Paradise* compared to London.
However, once out of this delivery tube, reality hits. At Omonia Square, one of the city's compass points, there is a flashback to the old days. Run down, crumbling, littered with rubbish and people lounging around smoking or snoozing. The cacophony* of traffic noise is constant, with little notice paid to rules and regulations. Cars are parked anywhere and everywhere – including pedestrian crossings. Motorbikes do not feel the need to stop for red lights or pedestrians, so it's miraculous vehicles do. Helmets are obviously not compulsory, or if they are the law's as fickle as its enforcement.
Attractively a city of few skyscrapers, but that's probably more down to earthquakes than any vision of the authorities as architectural harmony appears not a priority. Styles from preceding decades rub shoulders with those from other centuries or even eras. A 1000-year-old Byzantine church, Kapnikarea, had swishy Ermou shopping street built around while modern hotels housed in classic buildings are surrounded by 1960s mass residential projects (Art Hotel Athens on Marni street).
But although this may grate the eye, the overall impression of Athens is still positive. By all means do the must-see sights: the Acropolis, Temple of Zeus, the 1896 Olympics Panathinaiko Stadium, the re-built Roman Agora and Likavitos and Philapappou hills. The variety of religious places of worship reflects Athens history covering ancient to modern gods. Unfortunately a spiky network of scaffolding covers many as preservation projects seem destined to go for as long athey have existed.
And be warned: sightseeing in Athens is not for weak or faint-lunged. Despite the excellent cheap public transport (subway, suburban or light rail takes precedent over the trolley, bus and taxi for speed and reliability), the only way to the Acropolis, Philipappou and Likivitos hilltops is on foot. The funicular railway to the latter is often closed.
The rewards for hoofing it up these slopes are good to spectacular. The panorama from Likavitos fits the latter description not only to look down from Athens highest point, but also for the Ayios Georgios church atop and terrace cafés there after walking the wood-lined meandering way plus the open-air eponymous* (another Greek word) theatre.
At the top of Philipappou hill, after wandering on a circuitous cobbled road specially laid in the 1950s that passes the Pnyx, Ayios Demetrios church and Doras Startou theatre, there's the disappointing 2nd century BC monument to Gaius Julius Antiochus known as Philippapos or 'beloved grandchild'. But in late afternoon it is the spot to see the gentle sunset alight on the Acropolis and Piraeus port in the opposite direction.
Conveniently a return route goes through the suburbs of Makrigiani on Dionissou Areopagitou to the Plaka, the old city quarter, which is a magnet for tourists and all the cheap tat that goes with it. Saunter along Adrianou for a trip down kitsch lane. Around Monistaraki metro station, unfortunately a building site for the foreseeable future, Athenians gather en masse for Sunday's antique market or to sit in the sun at the many cafés, bistros and restaurants doing what they love most: eating, drinking, talking and smoking – preferably all at once. Meals at tavernas around here are cheap as beer, ouzo and wine cost about €2.50 with meals at €2-9 for a plate of souvlaki or Greek salad.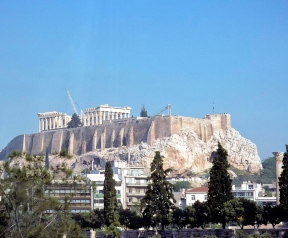 Athens is not for the politically correct brigade, especially those who find the legal weed a threat to personal and public health or the global environment in general. As democracy* (Greek for 'rule of the people') was born here, it's fitting that smoking is everywhere and the ubiquitous clouds around and stubs underfoot are evidence of widespread enthusiastic participation.
But in summer when cloaked in an industrial smog, it seems a spurious point anyway, which is why visiting there off-peak i.e. outside summer, is best. For the visitor who goes there in the 'winter' months, there's the magnetic combination of low tourists numbers, hotel rates, insects, balmy temperatures (about 20°C) covered by a gentle blue sky.
So it's only just that near the city are other attractions for the mildly adventurous. The small port of Rafina on the east coast has nothing to recommend it except outstanding seafood restaurants arranged in a small curve near its 'dock'. It's a good idea though if you write down your own 'bill' as the waiters can sometimes be so rushed and confused, they can 'overcharge' – accidentally of course!
In similar fashion, the destinations from Piraeus are like a panoply* (yep, another Greek one) of island jewels awaiting your choice. The nearest are in the Saronic Gulf, although you can voyage as far as Crete and farther if desired. Salamina, Aegina, Angistri, Hydra, Poros and Spetses can be reached by fast craft or ferry in just a few hours. In addition there is the 'Athens One Day Cruise' on classic cruise ships e.g. MV Giorgos, that stop at three islands in 12 hours.
Aegina and Poros offer different delights off-season. The former has the traditional busy semi-circle of cafes and shops overlooking the small harbour plus some splendid churches to visit. Poros, within 300m of the mainland town of Galatas, has a calm waterfront where vessels call in before continuing on in the narrow channel to other islands. Busy in summer, it's charmingly deserted the rest of the year with its quaint whitewashed alleys, houses and clock tower. A hired bike ride to the 18th Century Zoodochos Pigi Holy Monastery and Love Bay in the opposite direction suffice to see most of what there is.
Rooms and flats are available for €30 a night, but nightlife is for those who like it on the quiet side. As in all of Greece, the obligatory market, square, cafés, small restaurants, bakeries and confectioneries are in place. Speed is not the essence of life and contrasts with the, albeit lovable, chaos* (a Greek word) of Athens. The early morning or evening voyage offers fabulous photo opportunities to and from Piraeus for romantics and enthusiasts alike.
It is strange but perhaps in keeping with the Greek persona* (Latin unfortunately) that the best attractions are oversold (such as the ancient sites), thus attracting the hordes, while others are under-promoted or ignored, such as Monastariki and outside Athens beauty spots. Oh well, a glass of ouzo, a plate of seafood and toasted bread sprinkled with olive oil will sort that out. Eventually.
*English has absorbed many Greek words. However, it is not particularly well known that some have migrated to the modern vocabulary via Latin. Academy is a fine example. It was a suburb of Athens named after the hero Academos (or Ecademos) and was the location of one of the three celebrated gymnasiums (a Greek word often thought top be of Latin origin). Plato established his school of philosophy here, after being taught by Socrates, with Aristotle one of its graduates. In addition his platonic love was meant to be deep, though non-physical. It appears to be far more popular in theory than practice.
www.onedaycruise.gr
www.arthotelathens.gr
www.hellenicseaways.gr
www.athensguide.com