Sadly, during the last 3 years living in Singapore and Bangkok, I could not fulfill the dream of most expats in South East Asia: to travel around the region. Luckily, now that restrictions have eased up and traveling has reignited (although flight prices are in general more outrageously higher than what they used to be in the pre Covid era), it was time for my first visit to Vietnam. Destination: Ho Chi Minh, a pearl to discover the essence of Saigon.
It is advisable that depending on your nationality, you check if there is the need to apply for a visa before your flight. Vietnam allows visa free entry to some nationalities and some others not. In my particular case, being Spaniard, we are allowed a stay of no longer than 15 days for tourism with no need of applying and paying for any special visa.
Preparations for the trip
For flights, I tend to use Skycanner search engine and for hotels, booking.com. Hotels in Saigon go in a wide array of price ranges, but you can get a nice one with a good location relatively cheap if you pay attention. I always like reading the reviews of previous users, especially filtering by the recent ones, to have a clear idea of the place I am getting into.
My choice of stay was Singita Saigon Boutique Hotel, located in district 1. Nothing luxurious but clean and tidy, with friendly hotel staff and in a very easy location that allowed me to go walking to many of the sightseeing main spots quite easily. Besides, on my last day, as my flight back to Bangkok was late in the evening, paying a small extra fee, they allowed me to stay until the evening in the hotel room. Even if you do not want to do that, they still offer the chance to take a shower when you want to refresh before going to the airport, so extra kudos for the kindness to them!
Arriving in the city
The international airport of Tan Son Nhat is not far from the city center. Expect some traffic, but in any case, if your place of stay is located in any of the central districts, you should arrive at your destination in 30 minutes or less.
I pre booked a taxi so they would pick me up more comfortably as my arrival time was a bit late in the evening, but if you are tight on budget, you can also order a Grab Taxi from the airport and it will be a cheaper option. In general, I advise you to install Grab app. as you can easily use it in many cities in South East Asia (although it is true that in Bangkok the prices have been raising in the last year). Still, in Ho Chi Minh, most of my rides, when a destination was far away to walk to, were costing 5 euro or less. Quite a bargain, especially if you share the cost with travel partners.
I also recommend doing a bit of investigation when you arrive in the new city and have some spots listed that you want to visit during the next few days. I stayed a total of 4 days in Ho Chi Min, and had more than enough time to see the main highlighted spots that I wanted to see.
Things to see:
If you are a coffee lover, you are really gonna love Saigon. There are so many cafes and restaurants around, and the Vietnamese there really seem to love the coffee culture, always accompanied by delicious cakes and snacks. When I arrive in a new city, I love walking around and then resting and having a good coffee when I feel a bit tired after a long stroll. The city center is perfect for this. Some nice places I visited during my stay that I recommend:
La Viet Coffee Saigon
https://goo.gl/maps/wm5pdUJtKqsfAaPKA?coh=178571&entry=tt
Charming cafe with free wifi and nice sandwiches. I visited there on my way to Xa Loi Temple and enjoyed sitting on its terrace. Nice variety of cold and hot coffees, and you could see a big crowd of IT nomads around there.
Paris Baguette
https://goo.gl/maps/wm5pdUJtKqsfAaPKA?coh=178571&entry=tt
Big cafe with a nice cozy terrace on the upper floor. Big selection of bakery to enjoy while having your caffeine dose.
Cha Tam Church
Beautiful yellow church. When I visited it was very quiet so pretty much entering inside, I had all the church for myself. Worthy to see
https://goo.gl/maps/xByShGGSqCM173jh8?coh=178571&entry=tt
Tao Dinh Church
Absolutely beautiful pink colored church. The bad side is that it was closed when I tried to visit, so my only chance was to snap a few pictures from outside.
https://goo.gl/maps/d5CfzDt3x58NNeDY8?coh=178571&entry=tt
Notre-Dame de Saigon Cathedral
Nice to walk around, but currently it was undergoing renovations so it did not look so spectacular from outside. In any case, nice to visit as then you can also see nearby the bookshops street and the old Post Office
https://goo.gl/maps/6nbYoX9K6kEod2vd7?coh=178571&entry=tt
Ten thousand Buddha Pagoda
One of the hidden gems in the city and I absolutely loved visiting it here. When you face the building, it looks almost like a normal housing building, but when you enter, the more you climb the stairs, the nicer the temple looks, with a gorgeous last floor that could serve as a background for a videogame scene. Do not miss this one!
https://goo.gl/maps/6eDAkj6ATKzJR3RQ9?coh=178571&entry=tt
Giac Lam Buddhist temple
Apart from the beautiful main pagoda, the complex allows you to visit different temples with a lot of charm and nice statues. Another must see if you visit Saigon!
https://goo.gl/maps/7NcE678sc2FkLFwE8?coh=178571&entry=tt
War Remnants Museum
It displays outside its main building a nice collection of war machines from the Vietnam War era: planes, tanks, motorboats. Inside the exhibitions are really interesting, but beware that they are not for sensitive stomachs, many of the photos displaying death, torture and the cruelty of the war can cause a deep impression in your mind. And obviously, the whole tone of the museum is clearly very Anti American. Very interesting to see, but think if you are ready mentally for the content displayed inside, cause it can sour your day.
https://goo.gl/maps/5GjVveAfzMHWCMAi8?coh=178571&entry=tt
Ho Chih Minh City Museum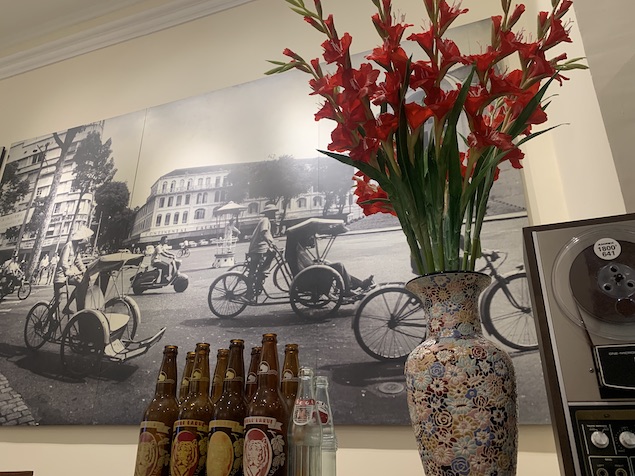 Very interesting displays about the city history inside, and you also have a small collection of war machines in the gardens outside. It seems to be a favorite place for the young local ladies to snap millions of photos and selfies of themselves, which can be slightly annoying when you want to see the exhibitions in peace, but still recommended and easy to access in the city center.
https://goo.gl/maps/259h7Eot6dgiWxCx5?coh=178571&entry=tt
Reunification Palace
I put this one in the Museum category as it is pretty much the function that remains nowadays of the old Government Palace. Very picturesque garden outside, with some old war tanks displayed in the gardens, and interesting halls inside.
https://goo.gl/maps/5GjVveAfzMHWCMAi8?coh=178571&entry=tt
Shopping souvenirs
You can buy a lot of small souvenirs around for a decent price, bargaining a bit is recommended as they will try to give you the tourist price. I especially liked buying some presents at the Saigon Kitch shop. It had many interesting items mixing the Vietnamese flavor with Western popular culture characters.
https://goo.gl/maps/jiuUW5VYvqTxRfCs9?coh=178571&entry=tt
Nightlife and Dating
I really did not go out so much during the night, as my goal was more to visit the city during the daytime. However I discovered a very cool cocktail bar with a very friendly waiter and delicious cocktails that I consider another hidden gem in the city:
Nightcap Saigon – Cocktail Bar
https://goo.gl/maps/QekvukVvcHD5p4wK6?coh=178571&entry=tt
If you are a single male looking for some dating and female company, be aware of your surroundings. Many girls look gorgeous, but a big majority will be freelancers trying to get your money. The same applies if you use dating apps like Tinder, a lot of freelancers or girls who have some "professional" intentions like serving you as tourist guide. So pay attention and filter very well before meeting anybody.