In the rock scene, there are women who have really made history and it would be nice just to remember them a bit since media does it only when there is something to get and never takes it as just a matter of rock & roll.
Women and their bands that are part of the rock history? Girlschool, Doro, Lita Ford, Joan Jett, Heart, L7, among others of course. All of them are important and unforgettable. We bring you a bit of this history, talking about a band that was worldwide famous in the 80's as the "hard rock queens", "the female Bon Jovi" in a time when, although it may seem a little out of date nowadays, it was REALLY a big thing. Our fireworks go to VIXEN and its "man", the wonderful woman who's been leading it and keeping the band alive, Jan Kuehnemund, band leader and guitarist of this 100% female rock representative Hard Rock band who's got to a stage and to a level only a very few women got in rock business when talking of an 100% female band.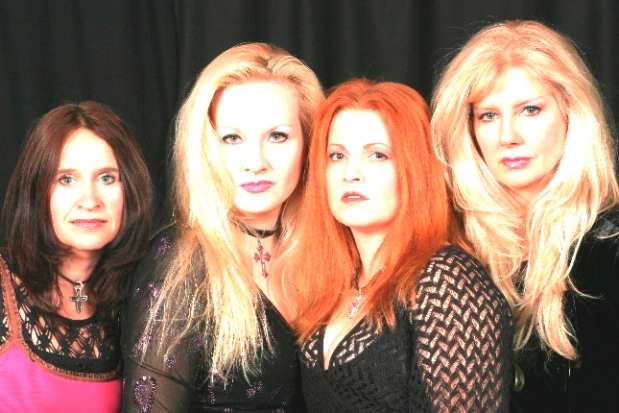 You founded Vixen in the 80´s and very fast the band got to a level only a few women´s band got to. Nicknames such as the Hard Rock Queens, the Female Bon Jovi were adjectives all rock fans agreed to give you. Could you tell us a bit of what it has represented to you as a musician and as a woman? Was it more special, a better victory for the fact of being a "woman in a man´s world" according to society patterns?
Actually, I just wanted to mention that we worked very hard for quite a long time, before we got signed, and had any success. In the beginning, the original band from Minnesota played all around the USA for several years, then one by one 3 of the 4 original members left the band and were replaced, eventually ending in the lineup with Janet, Roxy, Share and me. Once that lineup got signed, things came together more quickly, and that's the story most people know! When we started to have some success in the late 80's and heard the band being called the "Female Bon Jovi", etc., we were honored and thrilled!! It did feel like it was an accomplishment both as musicians and as women, playing rock & roll in a mostly (back then) man's world. I don't know if it was a better victory, but we were enjoying the ride, and doing what we loved doing, and we just happened to be women!
In the band´s official website I read a new album is coming out. What kind of changes can we expect for the coming album and what hasnt´s changed at all in the bands attitude and music? When is it going to be ready and debuted?
We learned a lot while recording Live & Learn, and we certainly hope to put all that we've learned into our next record!What has NOT changed, is our love & respect for each other, our vision for Vixen, and our love of music, and our attitude about wanting the band to progress, and make more records and continue writing and touring, and keep getting better and better at all of it! We don't have a release date as of yet for the new record, but we will post updates on our website as we have them – www.vixenrock.com
Have you ever stopped working with music? What have you done in your career and in your life besides Vixen?
No, I've never really stopped working in music! When Vixen broke up, I worked with a guy band, POULATION 361, for the first time in my life and I really enjoyed that, also!! I also worked with some other female friends and songwriters, and our band was called DRAWING DOWN THE MOON. We released a CD called Angel In My Dream.
What made you decide to go back with the band and how did you choose the new line-up?
My manager that I was working with in 2000, came to me and asked if I'd consider working with the old lineup again, even though we'd just been through a lawsuit and weren't on the best of terms. I said yes, so then he asked the other girls if they'd consider working with me again, and Roxy & Janet said yes. Share had her band Bubble going and so she declined, so Janet, Roxy & I, along with bassist Pat Holloway did a "reunion" tour in 2001 called The Voices of Metal Tour with Vince Neil, Ratt and Slaughter. Part way through the tour, things on the road were not working out so well, as it was a really rough tour. So when I saw it all falling apart, I had to decide if I wanted to call it quits, or try to find new members to replace all 3, and finish out the tour. I chose the latter, and miraculously I found Jenna, Lynn & Kat, and we finished out that tour and we've been together and going strong ever since!! I truly feel that was a miracle!!
Can you remember your first gig? How old you were? Who were you playing with? How did you feel? What memories from this day you carry until now?
I can remember one of the first gigs for sure. It was at a roller rink, with the original members from MN, Cindy, Gayle & Laurie, and the audience age was from about 4 – 16 years old, and we were about 15 or 16 ourselves! We signed autographs at that show, so we felt really excited about that! Then when we were all done playing and our equipment was packed up, I called my dad, who was our very first roadie, to come pick us up! He had built a little trailer especially for us and our equipment, to haul us around town! I still carry all those great memories with me, to this day!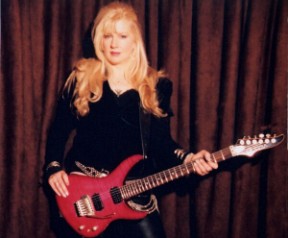 Unfortunately we cannot see a large number of women really working as musicians in the rock scene. Why do you think most of women don´t get attracted by rock ´n roll? What do you call rock attitude? Any example?
There are definitely more females in rock & roll today, as players/musicians than there were in the past. I think women ARE attracted by, and to rock & roll, in the role of playing it themselves, more and more every day. I think that is really great!! I would call a "rock attitude" a feeling, a vibe, a love of music and sometimes including the rock & roll "style" that goes with it. Examples that come to mind are: Joan Jett, Lita Ford, Pat Benatar, Ann & Nancy Wilson, to name just a few. Pure "rock attitude" – all of them!
"If somebody could write my biography, the title could be Vixen: A Little Girl's Big Dream""
What has attracted you?
The love of music – creating it, playing it, listening to it, living it, loving it!
Do you think a woman has a more difficult path to walk on and has to "prove" more than men to achieve goals?
I think it's easier today because there are more proven successful female artists/musicians in rock. From past experience, yes, we did sometimes feel like we had to "prove" ourselves. There were times when we were asked if there were really guys behind the curtain on stage playing our parts!
Do you like to listen to your past stuff, watch pictures, read articles and interviews, do you listen to your own music a lot? Does it feel good?
I don't listen to our old stuff very often, or read old interviews, etc., very often. But if I happen to hear or see one of our videos on VH1 or hear a song on satellite radio or something, I still do get excited and it makes me smile, and yes it feels good!
Among all your stuff, which one do you consider the best and why? And what has been the best moment for you so far? Why?
Edge of A Broken Heart is still one of our best songs, I think, because that song was our first single, and it put us on the charts and on MTV, and is the song people know us best for! One of my favorite and best moments and one of my best memories, is still, the night we heard our 1st album – "Vixen" – had gone gold!! We were in France on tour with the Scorpions, and we had the night off, and our manager called us at the hotel, to tell us our record had gone gold!!! I remember thinking and feeling that we, at this moment, had accomplished something big!! It was a feeling of – wow – we "did it" and it was like my original dream was coming true!
If you leave behind "Jan the rock star" for a moment, what do you have to say about and how would you describe "Jan, the regular woman" who goes shopping, does the laundry. Do you enjoy it?
Haha! Yes! I enjoy it! I love shopping, being at home, cleaning to my favourite CD's, reading, going for a walk, just going about my day, etc… it's certainly a lot different from being on the road, but I love both, and I like to have a balance between the two…
Tell us something you cannot spend a day without doing.
I cannot easily spend a day without drinking coffee!
You have a long career and probably a lot to tell. If somebody wrote your Biography, how would its name be?
Hmmm….maybe something like, Vixen: A Little Girl's Big Dream
If you hadn´t become a musician, what do you think you would have been?
Wow, I'm not sure! I believe it would have been something that involves being creative, though…
Which other female rock stars do you admire? Is there any actual band with female members you like to listen to?
I admire Ann & Nancy Wilson, Pat Benatar, Lita Ford, Joan Jett, and many more…I like Evanescence!
I don´t know if you´ve got a play list but could you tell us your moment top 5?
1. FOO FIGHTERS (any of their CD's)

2. I will be getting the new U2 record – No Line on the Horizon, I think it's called. I just heardone of their new songs and loved it!

3. FUEL ( I still listen to their 1st 2 CD's)

4. GAVIN DeGRAW5.

I need something else NEW to complete my top 5!
Leave us a message!
Wow – that's a tall order! ; )I would first like to say THANK YOU to all who have supported Vixen, back then, all through the years, and now!! We love you and thank you all for your very loyal support!!! : ) Follow your dreams, believe in miracles, believe in yourself, stay true to yourself, don't give up on your dreams, no matter how tough it seems, try to smile even when you don't feel like it, live each day to the fullest, tell your family and friends often – how much you love them, try to love even those you don't really want to, forgive (it will make you feel better!), and at the end of every day, pause and think about as many things as you can, that you have to be grateful for! Much Love, Peace & Rock & Roll!!
For more information about Vixen visit:
www.vixenrock.com
Read more articles from Maila Kaarina at:
www.hardblast.com