Kate Beckinsale i sable to show in this movie that she can be more than a pretty face in a bit super production (like Pearl Harbor, for example…) in this interesting drama that deals with honesty, freedom of speech and principles that go even beyond the law.
Based on true events, Beckinsale is an example to follow for all those who still believe that media has to dig into the dirty truth of the governments, and puts a question in our heads: "would you go that far, sacrificing your life for what you believe is fair?".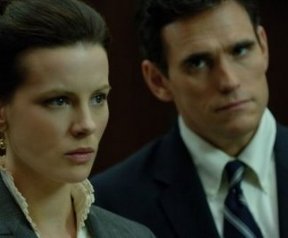 Together with her, Matt Dillon makes a pretty decent appearance as the Patton Dubois, you cannot less than hating him in the end, and Alan Alda shows a touch of class every time he steals the scenes with his elegant speeches and looks.
A movie that keeps you in a total state of empathy with the main character, and does not lack of a final interesting twist to put the cherry on top of the cake. For all of you interesting in journalism, work ethics and the American government policy vs freedom of speech, this is a must see!
Rating 4/5
The best: When Rachel gets interviewed while staying in jail by the TV reporter.
The worst: the movie has not got the promotion that it would deserve.
The detail: Based on true events suffered by New York Times writer Judith Mille who served almost 3 months in jail.
Nothing but the Truth Trailer