The first and only time I had seen Foo Fighters in concert, I was not pleased. It happened at Provinssirock in 2008. We had had a few too many beers during and after the interview with Black Lips before we headed to the main stage of Provinssi, that was totally crowded. So I am not sure if the beers were to blame, or having to leave before the end to catch the last train, but I noticed the concert there lacking spark and rythm.
So I was curious to see them again, and luckily, my opinion changed drastically.
But before the American band, there was a long evening of good rock at Kalasatama, in Helsinki. I arrived too late, and could see only the couple of final songs of Von Hertzen Brothers, one of the most reputed Finnish rock bands. At least, time enough to enjoy their superb song Let Thy Will Be Done.
Weather was nice, and although the date chosen for the concert was not the best, Sunday of Juhannus, with many potential fans still on holidays or on their way back to Helsinki from the summer cottages, still the assistance was great, with more than 25.000 souls gathered there.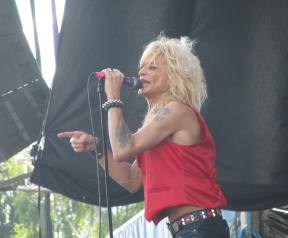 After a break in the VIP area to have a cold beer, time to see Michael Monroe. The ex- Hanoi Rocks has rock in his veins, and a wide experience to please the audience. Showing his excellent physical state, he jumped and run all over the state, pleasing a surprisingly young crowd; many teeangers and new generations that still enjoy with good rock and rock, seconded in his band by another Finnish legend, Sami Yaffa.
Third band were the Scottish Biffy Clyro. An unknown band for me before the gig, but actually they left a great impression in the Finnish audience. Their mix of ballads and more powerful metal is an audience pleaser, and exactly the kind of shot that the crow needed to warm up while waiting for the big event of the night, Foo Fighters!!!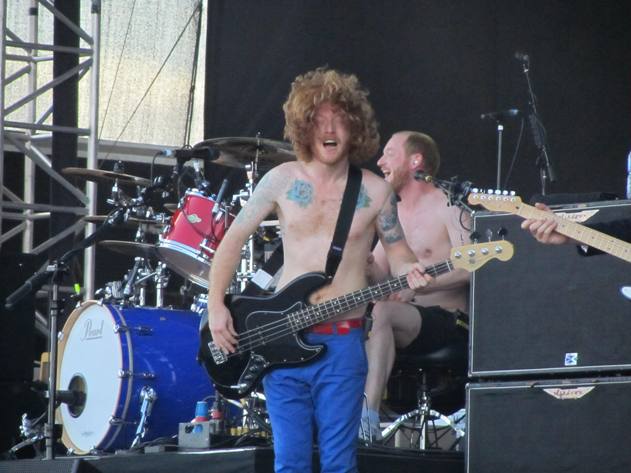 Dave Grohl and his comrades really gave this time a solid perfomance. Even when the quality of the sound was not always the best, some reverberation problems on stage, and even when Dave´s voice was pretty damaged at the end of the show becasue of so many screams, he still looked relaxed and having fun on stage. They also had time to pay homage to Michael Monroe, who was not losing detail of the concert on one side of the stage, playing for him some riffs of Hanoi Rocks´classics.
Foo Fighters gave a well rounded tour to their discography, dropping like bombs one hit after another, like The Pretender, My Hero, Learn to Fly or Monkey Wrench, with an audience that did not stop jumping and cheering. the special wink to the Finnish came when Dave appared alone on stage to dedicate them Wheels ("I like to play this song here because you always sing it back to me" he said to the crowd), and continued on acoustic with the first halp of Times Like These, with the band joining him later for an apotheosic end of the song.
Maybe due to time constrictions, because in the centre of Helsinki there are very strict laws about noise at night, the band dedicated themselves less to talk to the audience and more to rock. Dave explained that they prefered not to come back for encores, and just to play straight while there was time. He politely thanked the people for supporting them all these years, while joking "We used to suck, but not anymore!" "As far as you come to the concerts, we will continue making albums!", and headed to a mindblowing end of the setlist with Best of You, the cover of Queen´s classic Tie Your Mother Down, and the emotive and touching Everlong, a cherry on top of the cake.
A well rounded show, and a long slow walk from Kalasatama to Helsinki centre for the thousands of people who assisted. It was all worthy!
Photos: Antonio Díaz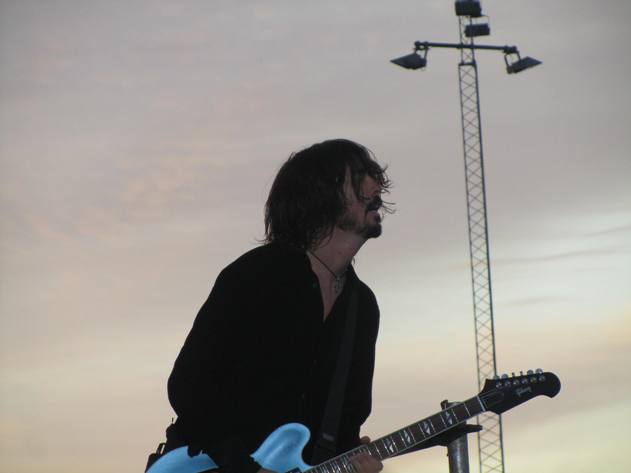 Foo Fighters´setlist. Helsinki. 26/06/2011
Bridge Burning
Rope
The Pretender
My Hero
Learn to Fly
White Limo
Arlandria
Breakout
Cold Day in the Sun (Taylor Hawkins on the vocals)
Long Road to Ruin
Stacked Actors
Walk
Monkey Wrench
Let It Die
Generator
Wheels
Times Like These
Young Man Blues (Mose Allison cover)
All My Life
Skin and Bones
Best of You
Tie Your Mother Down (Queen cover)
Everlong