Only hop, skip and a boat ride away from old Helsinki is the capital of Sweden and the home of 1,7 million of hip and trendy people. Stockholm is easy to get to, but hard to forget. Who wouldn't fall in love with the beautiful old part of the city and the creative and contemporary cosmopolitan atmosphere of Stockholm?

Sweden and Finland have love and hate relationship. It is because of our long history together and apart, but nowadays it is all about competing in everything, for example in music and ice hockey. Some of you may remember that we just bit Sweden in both sports this year! We
Finns have to admit though that there are lot of great Swedish things; like Absolut Vodka, ABBA and Pippi Longstocking.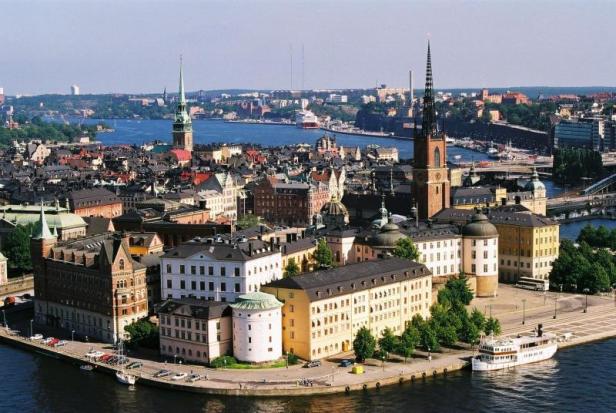 The weather in Stockholm is same we have in Helsinki, but sometimes just a hint warmer. After all it is to south from here! When visiting the city in winter, it is a cool and trendy, but cold city to hang out. That is why I recommend you to go right now, when the air is warm and nights are light.
Bridges and boutiques of Stockholm
The whole area of Stockholm is build on 14
islands and the city itself on 7 islands, so almost everywhere you go you will be surrounded by water. The most spectacular part of the city is the Old Town with its old and beautiful buildings. The Royal family lives there as well.
For obvious reason there are lot of bridges and if you take a walk instead of taxi from the ferry to the city central you will discover some of these beautiful waterways. Especially walk in the old town, called Gamla Stan, is worth of doing. What the heck, you may even see the king and his family, if you stalk long enough on the corner of the Royal Palace. If you get tired of shopping or chasing the princesses of Sweden, you can relax in one of the many parks of the city.
Stockholm is very vivid and cosmopolitan city, mostly because more than 15% of its population are
immigrants or other expatriates. There are lot of cosy cafes, restaurants with all kind of menus and bouncy night clubs, like Café Opera that has been the exclusive party central of Stockholm
for 25 years now. But it is one to mention, there are lot of other great clubs in the city and many of them don't close until 5.
Swedes know design and fashion. For some reason they always look good and show up wearing the right clothes in every occasion. So, when in Sweden, do as the Swedes do! Best shopping street in Stockholm is drottninggatan. But there are more places to buy your little piece of Sweden than the crowded shopping street and malls. Pop in one of those boutiques in the narrow alleys of the old city or in Östermalm, the art and antique district. The prices are pretty much the same as in Finland.
It hasn't been longer than a decade, when we Finnish Fashionistas use to make trips to Stockholm
just to buy clothes and accessories. But today we can go there and just enjoy the atmosphere instead of purchasing everything we see, because we finally have H&M and Nilson in Finland too.
Attractive attractions
Those who cannot get enough of culture should check out the House of Culture, Kulturhuset in Swedish, where the galleries, stages, shops and restaurants keep you satisfied for hours! Also Vasamuseet and Moderna Museet are worth of seeing. One of the things not to miss, if you walk in the old city, is the Stockholm's Cathedral.
If you are more into sports and activities than old culture, you may want to see Globen, the sport and entertainment arena, which has a unique shape: it's a massive ball! You also may want to go to Eriksdalsbadet which is Stockholm's largest aquatic Centre with a 50-metre pool, adventure bats, spa and gym. The outdoor pool is open during summer.
If you stay for longer and with kids, you may want to do a day trip to the zoo, called Kolmården. The zoo is one of Sweden's most popular tourist destinations and only 90 minutes south of Stockholm. I was there when I was a kid and believe me: that's a great adventure for little ones!
The love boats
Even
when you can fly to Stockholm in an hour, I suggest you to take the over night ferry to get there. It is
experience of its own. You can have massage or facial, have a nice dinner and drink colourful cocktails on the deck while watching the sunset. These ships are known internationally as love boats. So who knows, you may even meet the Mr. Right or if not, there are plenty of Mr. Right Nows on board! If it happens
that you drink too many GTs, "The It Drink" in Nordic, you really should try your best and get up early and go to the deck to see the most beautiful summer view of the archipelago of Sweden. The countless islands look amazing in the morning light.
If you are planning to take the ferry I strongly recommend you to stay in Stockholm few days in between, because the partying is usually so severe that you maybe thankful to have one day to recover from it and then have enough time and energy to discover the city. Too many people don't even leave the boat on
their trip and that is a pity, because they miss out a lot! By the way: you can
also get off on the Åland on your way to Stockholm.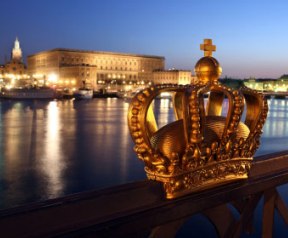 Åland Islands belong to Finland, but people living on them speak Swedish and that would be soft descending to the Swedish world and great way to see something new.
After all of these years that I have been exploring Stockholm,
I still don't know what it is that makes it so much more glamorous than Helsinki. Maybe it is the certain self-confidence and style Swedes have? Or maybe it is just because the grass always seems to be greener on the other side?