What inspired you to write a book about shit?
The idea came at my daughter's one-year birthday party. My family and friends was there, people from different ages, and everybody started to tell stories about that, so we realized the potential of publishing a book about…shit.
Paskakirja contains a great deal of research. How did you divide the work between Miika and yourself?
Basically, we first thought about what should be there. Then we expanded it. Most of the chapters are written by one of us and then the other one read through.
Did you have to erase any part after talking to the editor?
No, actually there was one part we found that we should have included later, that is sex and shit. It is something that the editor said that should be there, but it was too late to be included.
How would you take it if somebody tells you that this book is shit? Would it be a compliment in this particular case?
Yeah, it depends upon the face they have when saying it – people make so many jokes about it…
It is also a very handy book when going to the toilet and some reading is needed…
It is designed for looking good in the bookshelves…and yeah….also for going to the toilet…
Why are people, in general, shy when talking about going to the toilet?
There is a chapter about it. It is a complicated issue. Philosophically, it is said that a human being is something that shit is not. And well, obviously shit is also disgusting. So the answer should be somewhere between there. I don't know because there is not only one answer; different cultures have different opinions and approaches.
Did you find any group of people that adore shit?
Not like adoration. There is a chapter about people who "like" the shit, so that they talk about it a lot with their friends, and they have competitions to see who can expel the longest piece of shit…and that kind of stuff. Mostly males who gather many friends together and it is more a kind of a game.
Where did you find the sources for such a difficult topic to be researched?
We mostly made many interviews with doctors, psychologists and all kind of specialists. For example, a biologist was very excited explaining about her job. The other opposite side was the doctors, because no one wanted to be labeled for appearing in a book like this, talking about this topic. In the end we got a couple of doctors to collaborate.
Is there anything you discovered that shocked you while writing the book?
Most of things were not shocking, but kind of surprising. The most surprising thing was that shit has been used as a medical therapy, because some of the bacteria help to fight other bacteria inside the human body. The therapy is used even in Finland.
How did you get the paskatarinat (stories about shit) from people in the street?
Mostly they sent the stories through internet and then we also had a query about how long time they spent in toilet, for example. Eventually we gathered over 300 different stories.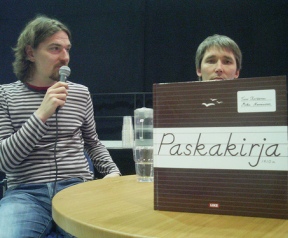 Was it complicated to get a balance between serious research and the funny side of the topic?
Both authors talked and thought a lot about it, so the title itself is so funny that we cannot underline it anymore. So we try to talk seriously about it, but then, when the stories come, they do not make the book look boring. So we found that we got a balance between giving good information and being entertaining.
Did you discover any different features in the habits of Finnish people when going to the toilet, compared with others?
It is difficult because for that, a similar research should be done in other countries. I have only this "Finnish" point of view, but I guess that there could be many differences with other countries like Russia and Sweden, but it would be a good topic for another book.
How likely that there will be sequel published in the future?
Well, there are some things we discovered later that were missed from the book, like sex and other stuff, plus it would be nice to compare with other places, but it is also very complicated to do.
Tell me more about the fact that, on average, men go to the toilet 7,000 more times than women each a year.
That is something that I found interesting myself. We made a query about that. There should not be any physiological reason. It could be that the men talk more about it, so they exaggerate it, or that women feel shy to talk about it. There is also quite big a difference about how long they stay in the toilet, so men stay much longer. It was a surprise that it was such a big difference.
You also include a special interview with Ari "Paska" Peltonen. What is the story behind that?
He is very popular in Finland; he writes and does a lot of stuff. He has had that nickname for many years. He told us that once he was in Russia and he was going to be interviewed by the national television, but when they heard about the literal translation of his nickname, they changed their minds.
And finally, you also investigated the music business…
Miika took care of that part more. We knew there were funny "shit stories" with HIM and The Rasmus, but the manager did not want them to talk about it. Not so glamorous…