Are you tired of waiting for spring to begin?
The earliest months of the year in Finland are the coldest ones and the social life is much quieter than in the summer. That's a given, but did you know that in Thailand the warm season is turning into a hot one in March? So, why don't you have a break from the cold and head to sunny Thailand?
Take a preview of the sun this year!
Thailand is perfect for everyone: for backpackers, beach bums, families and hippies with flowers in their hair, as well as for burned-out business people, who just want to forget the real world filled with stock exchange prices and all that. Spend a week, or months, exploring vivid Thai culture. You won't get bored in Thailand: just chill out on the beach, check out the glorious temples, do some scuba diving or trekking. And whatever you decide to do, it won't be too expensive!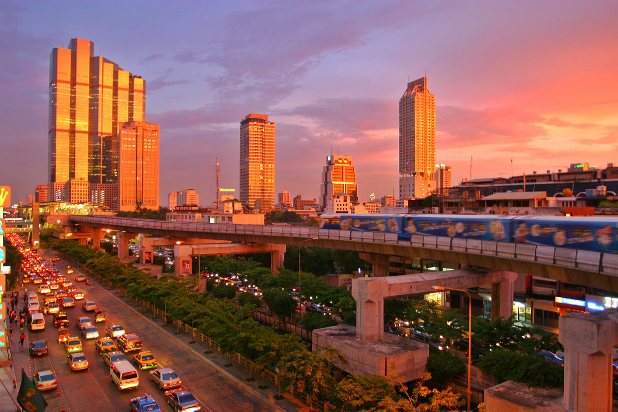 Thrilling Thailand
There are plenty of things to do if you like outdoor activities. For trekking there are good places near to Chiang Maj, in northern Thailand. As a part of the trip you can also do some river rafting and if you don't feel like hiking, there is always some friendly elephant who would like to carry you! For
those interested in climbing, Railey beach is the place to be.
Do you remember how it feels to walk barefoot on the beach? There are countless numbers of beaches to do that in Thailand: crowded ones and quiet ones. You just have to pick your favourite beach. Mine is Ko Phi Phi Leh, which is a deserted beach: no houses, just sand and palm trees! The island is also known from the movie called "The Beach".
When the sun sets and kids go to bed, the beaches turn into big party zones. The most popular travellers' beach party, the Full Moon Party, is arranged on Koh Phangan island. The party is so famous that I suggest you book your accommodation in advance unless you want to sleep on the beach (but
in case you do, you won't be the only one!). But don't worry if the moon is not
full while you are in Thailand, because the restless travellers party pretty much every night!
If diving is your thing or you have always wanted to try it, there are several great places to do that, like Koh Tao, the Similan islands, Phi Phi and Koh Chang. You can see a lot of colourful life under the surface: sharks, turtles and even massive manta rays! Imagine this: you are diving and suddenly it gets dark. You think that it is an unexpected eclipse of the sun. You look up and what you see is a big school of these friendly giants, manta rays, swimming on top of and all around you. It looks like they are flying. It is a sight that will take your breath away.
After the deep blue, it's back to dry land and noisy Bangkok, the capital of Thailand. The
shining temples all over the country are amazing and there are lot of them in Bangkok. A few worthy of mention: Grand Palace and Wat Phra Kaeo, where you can find the most revered Buddha image in the country. In addition to sightseeing, take time to explore those smaller side lanes. Who knows, you may even see a glimpse of the everyday life of the locals!
From Buddhism to materialism: shopping in the capital of Thailand is a dizzy experience. Three letters: MBK. If you say this word to the taxi driver, he will take you to the MBK mall and you don't have any worries how to spend the rest of the day. The mall is not small at all! I spent two days there
and covered only small part of it. The infinite amount of the stuff that is on sale is overwhelming! I have to warn you though – they have a big problem with piracy in Asia, so it is up to your own judgement
what you buy.
There are lot of food markets around Bangkok where the food is very cheap and fresh, but if you want to see something different, go to the floating market. It is a nice day trip outside of Bangkok and you can buy sweet and fresh fruits and souvenirs from the boats.
Thai transportation
Thailand is a paradise on earth, but a bit far away from Scandinavia. You will need at least a few weeks off, a passport and open mind. Basically before leaving Finland you only need to buy the flight tickets, starting from 700 euros. You can get a room when you get there. I paid around 3 to 5 euros a night, sharing the room
with my friend. Of course, the luxury room costs much more, as always. Eating out is cheap too and Thai food is amazingly good!
It is easy to get around in the cities: you can take taxi, bus or tuk tuk (the traditional vehicle which is like a mix of a motorcycle and a cart.). Some tuk tuk drivers may sometimes be a little bit
cheeky, so negotiate about the price before you step into the vehicle. You can also rent a scooter, but please be careful: the traffic on that side of the globe is not as safe as here. Been there, done that: I had a motorcycle accident in Thailand. Luckily I survived! So, the safest solution is to take a bus or a train. The connections between the cities are well organized. But do remember that it is not Finland; vehicles may not be on time, buses may break down and weird things happen when you least expect them to, but after all, that is part of the adventure!
After the holiday you will reminisce about those lazy days chatting with locals on the streets, the taste of fresh pineapple in your mouth and those sunsets you watched while lying in a hammock on the beach. And even a short trip to Thailand will make you happy for a long time!
Thailand is such a lovely and lively place, that one article is just scratching the surface. Thus I say: Go there, discover it and you will fall for it!