into the big screen of David Mamet´s play with Dustin Hoffman and Dennis Franz offering an amazing acting duel.
Certainly American Buffalo is not the typical Hollywood movie. Due to being an adaptation of a theatre play, you do not see many characters on screen, actually most basically you just see 3 all the time (and the shoe cleaner at the beginning). But the dialogues keep catching you deeper and deeper until you find yourself enjoying the film almost by surprise.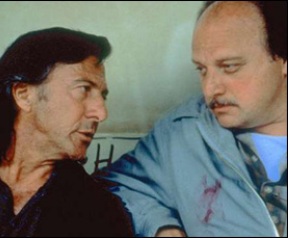 The acting is top class, and the story is full of nice dark humor and smart sentences. Director Michael Corrente is able to transmit strong values and feelings all over the movie: characters that get lost in the small problems and details and miss the big picture of life.
If you enjoy philosophical essays about life and the nature of human beings, this one is going to touch your soul. For other kind of audience, maybe its small pace can desperate them before they truly learn to appreciate its quality.
Rating 3/5
The best: Sean Nelson scamming dollar after dollar from the two main characters
The worst: The movie is from 1996, so for some spectators it can smell too "old".
The detail: Franz has been one of the stars for many years in the TV series NYPD Blue.