CHART, the leading Nordic event for contemporary art, announces its exhibitor list and a three-year collaboration with Tivoli Gardens which will bring contemporary art to the iconic amusement park for a whole month. The art fair and the public programme, will yet again take place at the historic Charlottenborg in central Copenhagen, August 24 – 27, and CHART in Tivoli will be open August 24 – September 24, 2023.
CHART has expanded the concept of the art fair into an event that incorporates architecture, design and book publishing, public programmes that reach a wide audience, and an around the year presence through its digital platform, CHART Journal. The tradition of a generous public programme continues with performances and music acts in the courtyards of Charlottenborg, free and open for everyone, that turns CHART into a celebration of the arts in the heart of Copenhagen. In addition, the CHART Book Fair, Talks, CHART in Tivoli and CHART Architecture, add to the rich programme. CHART, as a non-profit organisation, emphasises Nordic values that both shape and go beyond aesthetics; social awareness, democratic principles, forward thinking and collaborative practices.
The 2023 edition is the first under new director Julie Quottrup Silbermann, who has put a special focus on sustainable and socially conscious ways of collecting today and on introducing new entry points for collecting and supporting the art scenes.
Throughout time, collectors have played an important role in supporting artists and thus the entire artworld ecosystem. Subjective decision-making and experience of course often play a role in collecting, but I want to open up the discussion around the commercial art world, as a whole, to add insight and transparency about who is collecting, how they are doing it and why. (Julie Quottrup Silbermann, Director, CHART)
The Art Fair 

The 37 exhibitors, consisting of both Nordic and international galleries, participating in the art fair at Charlottenborg, all share an active engagement with the Nordic art scene. Alongside established artists, the galleries will also present a new generation of artists that are achieving recognition both in the Nordics and internationally. 

A new wave of female led galleries from across the Nordics are represented by galleries such as palace enterprise (DK), Saskia Neuman Gallery (SE), VAN ETTEN (NO), Sharp Projects (DK), Þula (IS), ISCA Gallery (NO) and Cora Hillebrand Galleri (SE), most are newly established or new additions among CHART participators.
CHART 2023 exhibitors 

Andersen's (DK); Galerie Anhava (FI); BERG Contemporary (IS); Galleri Bo Bjerggaard (DK); BORCH Editions (DK); Carl Kostyál (UK/SE/IT); C.C.C. (DK); Cecilia Hillström Gallery (SE); Croy Nielsen (AT); Dorothée Nilsson Gallery (DE); Etage Projects (DK); Galerie Forsblom (FI); Galleria Heino (FI); Galleri Cora Hillebrand (SE); Gether Contemporary (DK); GSA Gallery (SE); Helsinki Contemporary (FI); i8 Gallery (IS); Isca Gallery (NO); Kunsthal Oslo with KCAC (NO/SD); Lagune Ouest (DK); LOYAL (SE); Galleri Magnus Karlsson (SE); Martin Asbæk Gallery (DK); MELK (NO); NEVVEN (SE); palace enterprise (DK); Peder Lund (NO); Persons Projects (DE); Saskia Neuman Gallery (SE); Sharp Projects (DK); SPECTA (DK); Gallery Steinsland Berliner (SE); Galleri Susanne Ottesen (DK); VAN ETTEN (NO); V1 Gallery (DK); Þula (IS). 
CHART in Tivoli: A 3 Year Collaboration Announced 

CHART is thrilled to announce a 3-year partnership with Tivoli Gardens following last year's successful collaboration. Every August and September for the next 3 years, Tivoli's visitors will have the opportunity to experience a cultural environment unlike any other in central Copenhagen, as site-specific sculptures, installations and video works are installed alongside the park's world-famous rides and attractions. The month-long exhibition will be open for all visitors to the iconic amusement park in Copenhagen.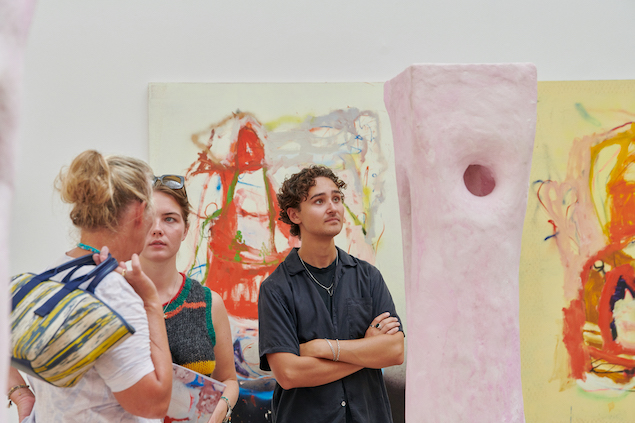 CHART in Tivoli presents a fresh perspective on traditional exhibition formats. By placing artworks in the context of the historic amusement park Tivoli Gardens, the project offers a new opportunity to broaden the audience for contemporary art. Founded in 1843, Tivoli draws millions of visitors every year and is a well-known venue for performative arts, from ballet and theatre to pop and classical music, and continues to be one of Denmark's most symbolic cultural locations. Through the exhibitions, CHART is proud to inspire new collaborations across Copenhagen's cultural scenes and to expand the format for what an art fair can be.
CHART in Tivoli speaks to the core of our mission to bring the best of contemporary art in the Nordics out into the public space. With this new three year collaboration, we are excited to re-shape and re-define the space for contemporary art in our society today, making it more accessible and more inclusive for everyone. (Julie Quottrup Silbermann, Director, CHART)
CHART in Tivoli, will include artists with well-established international profiles, those with established reputations in the Nordic region as well as emerging artists gaining traction at the local, regional and international level. Among the confirmed artists are Sylvie Fleury (CH), FOS (DK), Inka & Niclas (FI/SE), Jonathan Meese (DE), Oliver Sundqvist (SE/DK). More information will be released in June 2023.