Meryl Streep and Philip Seymour Hoffman give us as a present an unforgettable duel of great acting skills!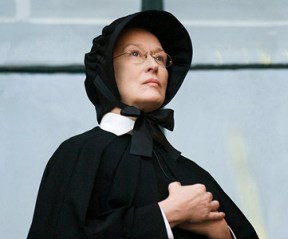 Same than the title, the plot and the final of the film is really ambiguous. Doubt plays with doubts, and the spectator, after collecting the subtle hints all over the movie, can have his final interpretation of what could have happened during the action. As the strongest point, obviously the great cast led by Symour Hoffman and Streep, two of the greatest actors in Hollywood nowadays. Added to them, the innocence and sweet figure of Amy Adams as Sister James is perfect to catalyze the story, although her character fades away in the last part of the movie, shadowed by Streep and Hoffman´s duel.
Doubt is an intelligent and enjoyable movie, and although maybe the plot could have turned to be more exciting and the script more mischievous, it represents a smart effort for the spectator, far from the usual numbness of most Hollywood productions. Worthy to watch!
Rating 3/5
The best: Streep and Hoffman having dialectical battles.
The worst: That pedophiles continue wandering around the Catholic church without the punishment they deserve.
The detail: Based on the play by John Patrick Shanley that won the Pulitzer in 2005.
Doubt Trailer