Today FREE! Magazine has the pleasure to offer you an exclusive interview with Tom Brumpton, vocalist of the British industrial metal band Akarusa Yami. Tom is a person who totally "breathes" metal music, combining his band with his career as publicist (among his clients are infamous names such us Iggy Pop or Maroon 5) and freelance journalist. He kindly answered our questions to enlight us with interesting info about the metal scene in his hometown, some curious anecdotes from the backstage and overall, what we can expect from his exciting project with his own band!
Hello Tom and thanks a lot beforehand for your answers. You were one of the founders of Akarusa Yami a couple of years ago in Nottinghamshire. How did the idea evolve to create this band?

Hey Antonio, not a problem. Thanks for having me. I was indeed, basically it came from a mutual frustration that myself and Tom Clarke (Guitars, co-founder) shared. We'd been in a lot of bands before that, for one reason or another, hadn't done much. So we discussed working together and over time its morphed into Akarusa Yami.
Had you played in other bands before? Do you currently play in other projects?
I did, and the other guys all have and do but I don't really have time for any other bands at the moment. I used to sing for a Pantera-esque band called Kallous a few years ago. Tom and our bassist Jake Bennett play together in a death metal band called Cacodaemonic, our drummer Adam Jones plays in a rock band called Scarlet's Wake, our second guitarist Damian Lee produces bands and does some DJ work under the moniker Mean iDeal, and our Keyboard player Lee Dowling plays in a band called Krossfire. So all of us are usually pretty busy.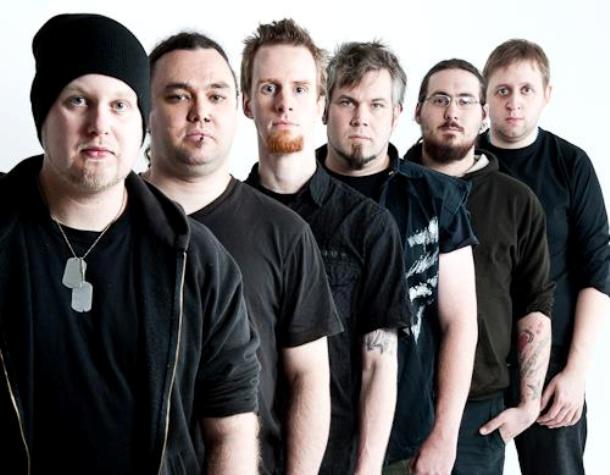 You are also connected to the metal industry working in PR with many different bands. Does it help this to promote your band, or actually is it difficult to find free time to combine both activities?
It's fairly straight-forward really, because I deal with a lot of metal bands so I'm already talking to the kind of people that Akarusa Yami would appeal to. So it's not a big deal, and its never caused any trouble.
Probably not the first time somebody asks, but certainly the name of the band is peculiar. Where does it come from?
(Laughs) No. Tom came up with it and it translates to "Opposite of Darkness, Opposite of Light" which we read as Balance. We felt it described our overall sound very well.
How is the industrial metal music scene in Nottingham area and in UK in general?
It is pretty good, but I'd say the big scenes in the UK at the moment are probably indie music (Stuff like The Foals, etc) and Djent (Bands like TesseracT). And Dubstep, of course.
In your band´s FB site, it is mentioned the Finnish band Swallow the Sun as influence. Do you follow the metal music from Finland closely? Have you ever visited or played here before in Finland?
I've never visited it, no and I don't believe any of the other guys have. We're always open to new bands from across the world, and Finland has some amazing artists. Swallow The Sun are an awesome, very distinct band and I love their melancholic sound. I think its brilliant. If you held a gun to my head though, I'd say my favourite Finnish artist is probably HIM. I own every record and I think Ville is a great writer and singer.
For a person who would be a first time listener of your band, how would you describe in one sentence what they are about to hear?
We've described our sound so far as industrial music with elements of progressive and extreme metal. It's served us well, as I think we appeal to a wide spectrum of metal fans.
So far the band is still unsigned, isn´t it? Have there been any conversations with major record labels for the future?

We've not approached any labels. We're not against the idea, we've just not done it as of yet but we will be doing so very soon.
Now you have almost ready your second EP "Trace Element Rebirth" that will be released on April. How do you compare it to the debut one "Ouroboros"?
I think it's a massive leap forward for us; performance wise, compositionally, lyrically, production wise. It's a bit of a re-invention. Ouroboros as a record was very much a band learning and finding its feet, and dealing with a large chunk of chaos at the same time. This record is more focused and substantially more refined.
The band has already been on stage in some big festival like Bloodstock. What are the plans for 2013? Anything big coming up?
We're talking to a few management companies and whatnot, and we're discussing festival options. Once we've got something confirmed we'll make an announcement.
What is the craziest thing you have seeing in a gig´s backstage?
One time when I was 18 I went to a show at Rock City in Nottingham. The band playing was US Industrial outfit Society 1. The show was small but awesome, and afterwards me and a few friends got chatting with the band and we helped them with their gear. I went to check to see where our ride home was and when I came back all my friends were grinning ear to ear. Turns out while we were helping, the singer was back stage filming a porno. Three days later the girl he was making it with added me on myspace and we became friends. That was pretty crazy.
If you could choose a band or an artist to join Akarusa on stage, who would be?
That's tough. Maybe Trent Reznor or Mike Patton. They're so unique in their approach to music and such outstanding work horses that I think it'd be amazing to do something with them both! Outside that, for me I'd say Rammstein.
You breathe music as passion and work, but what other things you like doing in your free time?
(Laughs) Thanks. Honestly, I'm a work horse myself. Outside the band and running a PR company I'm a partner in a radio company in the US, I write for Zero Tolerance magazine in the UK and I act and write. I'm not good with time off.
Anything you want to add for the readers?
Thank you for the support and we look forward to coming to Finland in the future.
Check out Akarusa Yami´s Youtube channel:
http://www.youtube.com/user/AkarusaYamiOfficial