Although I have read some other critics that do not leave in a very good place this movie, I must admit that I liked Monument Men. If you expect the typical war action movie, maybe this is not your cup of tea. Monument Men is certainly a war movie, but narrated from a different angle. This is not about the soldier on the front line doing heroic acts to take enemy positions. This is more about the life of guys that incidentally found themselves having to do a job in the middle of the Second World War. The job is no more and no less than trying to save as much precious works of art as possible rescuing them and discovering them from the hidden places where the Nazi had stored them. But you could extrapolate the same idea to the thousand of men, truck drivers, engineers, doctors, etc that found themselves having to struggle with lost bullets while doing their jobs in circumstances that years before nobody would have imagined.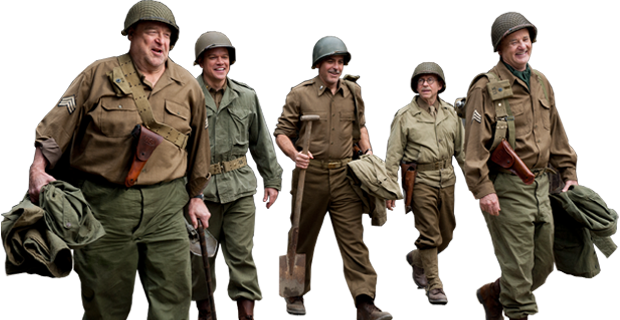 I am also quite a fan of history of art, so it is beautiful to see how also saving the essence of what makes us creative humans matters. The movie is far from flawless, that is true, the narrative is not always well connected, the relation between Matt Damon and Cate Blanchett lacks of chemistry and the main role by George Clooney is eaten alive when sorrounded by some of the best actors in Hollywood in secondary roles, name them John Goodman, Jean Dujardin, Bob Balaban and overall Bill Murray who as usual just has such a strong presence on screen that literally steals every scene he is in.
An enjoyable movie that shows that sometimes small things matters when you fight for a bigger cause.
Rating: 7.5 out of 10