Eddie Trunk is host of Friday Night Rocks with Eddie Trunk, a hard rock/metal radio show from New York City that can be heard across the U.S. and on the internet. He was kind enough to spend a few minutes with FREE! Magazine to discuss his show and the radio business.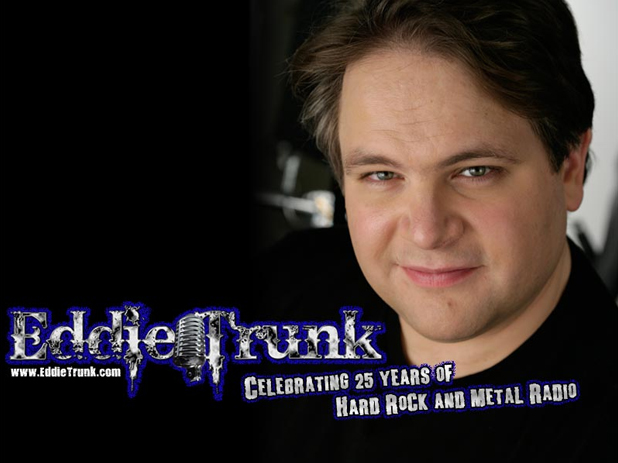 I know your favorite all time band is KISS. So how did you go from a kid in the late 70's with KISS posters on your bedroom wall to having a nationally syndicated radio show?
It's been a long road but I started out writing the music column of my high school paper. I was always just a big music fan and chased down everything I wanted to do in the business. Did College radio while in high school, worked at a music store, worked for a record label (Megaforce), management company and more. I always did radio though regardless of what else I had going, it was always what I loved most. In 1994 I got a break when I broke into the NYC market and that's when I made it my main focus. Everything else fell into place because of the audience I served and how loyal they are. I specialized in something and did more then just play records, which is what set me apart. NYC and Boston are the two biggest markets the show is heard and I also do a national XM show [satellite radio] on Mondays on channel 41.
Now thanks to your show, you're able to have personal and professional relationships with many of the same musicians you idolized as a kid. In fact, you are actually good friends with original Kiss guitarist Ace Frehley.
I had a hand in signing Ace to his solo deal in the 80's and we have remained close friends ever since. Ace is working on new music now and I'm going to pay him a visit soon and see what he's up to. I've been fortunate to have many of the legends of music become friends after doing this for 25 years. It's really all about how you treat them and behave around them. The key is to make them feel comfortable and avoid being a super fan, then you can establish a true connection.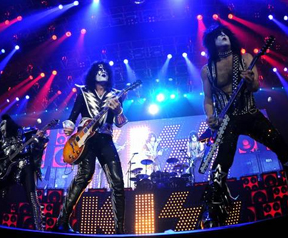 Your show is a mixture of music and live interviews. What can a listener who has never heard your show expect?
Not just music. Anyone can be a jukebox and play CDs, and with iPods people can get any songs they want. I bring all my experience, stories, interviews, contests and more. The show is a mix of music and talk about music, and you will never hear the "hit" song you're sick of from the classic artists. You will also hear plenty of classic artists that don't ever get played from the 70s and 80s mostly.
It seems that hard rock & metal is enjoying a bit of a resurgence these days. Do you think there's still that stigma that's associated with those "hair bands" from the 80s?
Yes, unfortunately I do. Outside of Bon Jovi there really have not been any artists from that era that have had big time success now. It's sad because there is so much great music that is not given a shot or written off by the mainstream. I do my best to cater to that crowd with the little time I have each week.
It's great that in a way, you're building a community of fans around your radio show.
I'm nothing without my audience and their support. I do my best to connect with them as much as I can in as many ways as I can. It's so cool to meet people that get the show every week somehow, someway. It's what metal has always been built on, loyalty and passion for the music and people that love it.
As many people probably don't realize, most DJs in the U.S. don't get to choose the songs they play on the radio anymore. You're very fortunate to still retain complete control over what you play. What do you think of the state of radio these days?
Radio is big business and big money owned by big companies. I am fortunate I have what I have. I only wish I had more hours/days in the week. There is a reason why radio in the mainstream is the way it is. The ownership feels that's the way they can make the most money, and that's what business is about. I get that. I think there are more people out there that want to hear the type of radio I do then many think, but I'm grateful for what I have. I'm also on XM satellite radio and have a live weekly show there, so that is another great outlet that is live nationwide and through Canada, uncensored with no commercials. Lot's of fun and another way to reach people.
It seems that radio used to play a big role in breaking new bands. I can think of a lot of bands that became famous thanks to some lone DJ playing an unknown band's song which led to that band getting national exposure. With most radio station playlists being dictated by some focus group, how does a new band get that lucky break anymore?
They have to be creative. The entire music business has changed, labels, everything. Thanks to Myspace, YouTube, etc, bands have other outlets to reach people and even sell music. Top 40 can still break an act in a major market, radio still has lot's of power and influence, it's just the approach to the business is very different now.
Since this magazine is for people living in Finland, what do you think of the current crop of Finnish rock bands that have enjoyed some international success recently?
I saw HIM a couple years ago in LA with Monster Magnet. Wanted to like it but it didn't really click for me that night. I lean more to the classic stuff but I know there is a big scene emerging in the clubs here with the Euro metal. I think it's great that people support new music, very important. I would play more of it if I had time.
You are a person who is passionate about the music and it shows. How does it feel to be able to make a living doing what you love?
I'm very lucky and do not take it for granted. I have a great following and connection with the audience and artists. There have been some truly magical things take place on my show over the past 25 years and I'm proud it's become such a big destination for rock fans and bands.
Listen online to Eddie Trunk's show at: www.eddietrunk.com