A TV reporter and her cameraman are going to live a very disturbing night when they find themselves locked in a building full of dangers.
Many people considered this movie the best horror movie ever (being by the way the remake of the Spanish film (REC)) I honestly do not understand what is going on in the brains of the audience lately, because I considered this one just a very poor average horror one. The beginning is promising, and the acting is plausible, but in the end it just turns predictable, falling into the category of "run away from the zombies… or infected", whatever you want to call them.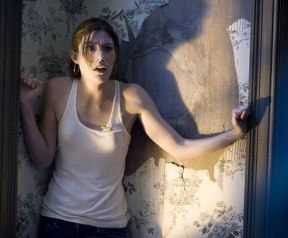 It would have been nice to dig deeper in the relations of the reporter, Jessica Carpenter, with her cameraman and the firemen that go with her (obviously was openly flirting during the beginning when they are at the fire station), but the director prefers to throw to the spectator good doses of adrenaline every 30 seconds. Well, in some ways the movie is plausible enough to follow it until the end, but on the other hand, there was no big surprise here, even the not so sweet ending could be foreseen miles away.
From my humble point of view, another American remake that does not catch up with the original. It can entertain, but do not expect any masterpiece.
Rating 2/5
The best: The oppressive atmosphere inside the building.
The worst: The plot is not much original after invasion after invasion of zombies and infected beings we suffer every year.
The detail: The incredible Doug Jones, famous for his incarnations of monsters in Guillermo Del Toro´s movies, plays the role of the Thin Infected Man in the end of the movie.
Quarantine Trailer