Robert de Niro joins forces again with director Barry Levinson in a movie that discovers all the dirty secrets of Hollywood industry.
Based on the book by Hollywood producer Art Linson, who also wrote the script for the movie, here comes a movie that although not being any masterpiece, it certainly entertains. The cast is actually superb, with names like De Niro, Sean Penn, Bruce Willis, John Turturro, Robin Wright Penn and Stanley Tucci gathered together. Even the new teenage sensation from Twilight, Kristen Stewart, has a small role as De Niro´s daughter (I still cannot stand her way of talking).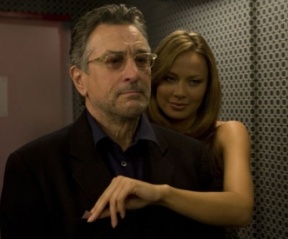 Although the rhythm of the movie has some ups and downs, there are a couple of funny memorable moments with a final climax at Cannes festival. Certainly maybe the general quality of the movie does not keep up with what such a great cast could have achieved, but the spectator catches easily the essence of what Levinson tries to transmit us, and that is fair enough.
Not a bad movie, although if you are dog's lover, you are not going to like a few scenes here…
Rating 3/5
The best: De Niro awake-dreaming of kicking the ass of Tucci like if he would be back in his best mafia films. And starting to smoke again while awaiting Bruce Willis coming out of the van (shaved or not shaved).
The worst: Why every time that Kristen Stewart opens her mouth, she has to mumble and hesitate?
The detail: Based on the non-fiction book by Linson: What Just Happened: Bitter Hollywood Tales From the Front Line
What just happened Trailer