Another movie from Disney with dogs having adventures. Not, this time they are not lost in Alaska, but in Mexico and the main characters is a tiny but brave spoiled Chihuahua!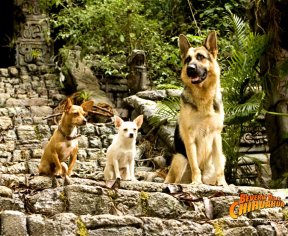 Obviously this is a movie just for the little ones of the family, or as well for parents and kids to watch together. Do not expect any logic here, because you are not going to find it. A dog wearing a collar of diamonds, dogs that understand perfectly the instructions of humans, a rat and an iguana who are friends and try to steal around… I am surprised actually that Andy Garcia and Drew Barrymore are involved in the project lending their voices, but there is nothing that Disney cannot achieve. The always deliciously sexy Piper Perabo (Coyote Ugly) and Manolo Cardona (well known in Latin America for his participation in soap operas) have good chemistry together, but the real stars of the movie are the dogs, forming a society that has nothing to envy to humans.
Well, as we said at the beginning, this is more a family movie, aimed at kids and animal lovers. If you prefer gore or terror movies, watching a bunch of cute dogs talking and having adventures around is not going to float your boat. But if you enjoy Disney movies and want to spend a good time together with children, your couple or your parents, this can be worthy a try.
Rating 3/5
The best: Delgado´s background story and its similarities with many other cop movies.
The worst: That in real life there are dogs almost as spoiled as the rich ones in the movie. And unfortunately there are also dog fights where sadistic audiences enjoy watching animals suffer.
The detail: The movie has made more than 150 million dollars worldwide while being at the cinema screens.
Beverly Hills Chihuahua Trailer