---
The Northern Lights, also known as Aurora Borealis, are an awe-inspiring natural phenomenon that has captivated travelers worldwide. In this guide, we unveil top travel destinations and experiences for those seeking the ultimate Northern Lights spectacle.
Top Destinations for Viewing the Northern Lights
Tromsø, Norway: Situated ideally for Northern Lights viewing, Tromsø offers spectacular sightings, especially during autumn and winter months. The city hosts numerous guided tours and activities aimed at providing an unforgettable experience of this celestial wonder. Additionally, Tromsø's surrounding areas offer numerous secluded spots for light-pollution-free observation.
Abisko, Sweden: Known for its clear skies and minimal light pollution, Abisko National Park is a prime location to admire the ethereal display. At the heart of the park lies the Aurora Sky Station, one of the world's premier observation points. The elevated station offers mesmerizing panoramic views of the Northern Lights.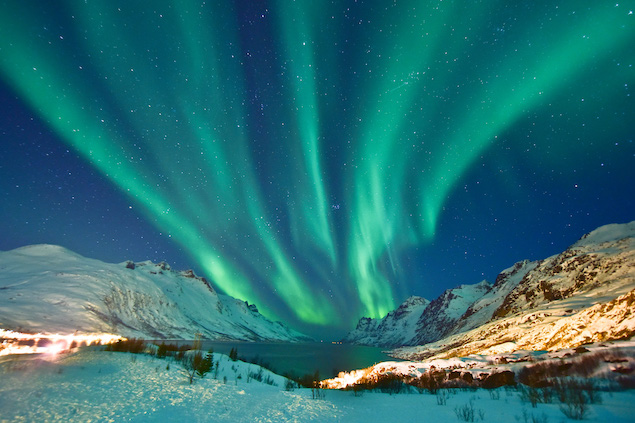 Rovaniemi, Finland: Recognized as the home of Santa Claus and a top destination for Northern Lights viewing, Rovaniemi in Lapland provides excellent sightings, particularly during November and February. The city boasts several spas and glass igloos, offering a unique and comfortable setting to marvel at the sky's spectacle. Guided tours are also available, where experts share the best observation spots and photography tips.
Reykjavik, Iceland: While the Icelandic capital offers Northern Lights views, it's recommended to venture slightly outside the city to reduce light pollution and enhance visibility. Thingvellir National Park, an hour's drive from Reykjavik and a UNESCO World Heritage site, provides a scenic and tranquil setting for light-watching.
Unique Northern Lights Experiences
Observing the Northern Lights can be more than just sky-gazing. Here are some exceptional experiences to make your trip unforgettable:
Glass Igloo Stay: Several hotels offer glass igloo accommodations, allowing you to watch the Northern Lights from the comfort of your bed. This privileged view of the sky lets you revel in the spectacle without braving the cold outdoors.
Guided Tours: Led by a professional guide, you can discover the best viewing spots and learn about the captivating phenomenon. Additionally, guides can offer photography tips to help capture your unique experience.
Husky Sled Rides: Imagine being on a sled pulled by huskies while the Northern Lights dance above – a romantic, adventurous, and breathtaking combination that enhances your Northern Lights experience.
Travel Tips for Northern Lights Chasers
To optimize your chances of witnessing the Northern Lights, consider the next travelling tips:
Weather Forecast: Check the weather, especially cloud cover and any reported Aurora Borealis sightings. Clear skies enhance viewing opportunities. Several websites and apps offer specific Northern Lights predictions to help plan your observation times.
Darkness Matters: Light pollution can hinder visibility, so seek out dark, isolated spots like national parks. A short distance from urban areas can greatly improve your viewing experience.
Night Vigil: The Northern Lights are often most vivid late at night or early in the morning when darkness heightens visibility and color intensity. Stay awake and keep an eye on the sky for a potentially unforgettable sight.
Be Patient: Remember that the Northern Lights are unpredictable. Their appearance can't be guaranteed.
Entertainment for Aurora Enthusiasts
While waiting for nature's light show, consider these entertainment options: read a book, listen to music, play card games with fellow enthusiasts, or practice night photography. If you enjoy online entertainment, consider the GetLucky online casino for some excitement during the wait. Play your favorite games for an exciting and rewarding wait. However, don't forget to immerse yourself in the surrounding nature and remain vigilant for the Northern Lights.