Estonia, for both Finnish and foreigners staying or visiting temporarily Finland, has become one of the favourite destinations due to its geographical closeness and the cheap prices of their products, especially alcohol, tobacco and food. But Estonia is not only Tallinn. Discover Tartu, the second biggest city in the country and the cradle of Estonian culture.
It is almost a compulsory visit to take a walk around the old city of Tallinn, and when the weather is good and warm, Pärnu on the west coast becomes the favourite summer destination, due to its long sandy beaches and spa resources. But I am going to focus this article on revealing you the mysteries and secrets of Tartu, the second biggest Estonian city, the cultural and academic cradle of the country, with one of the oldest Universities founded in Europe.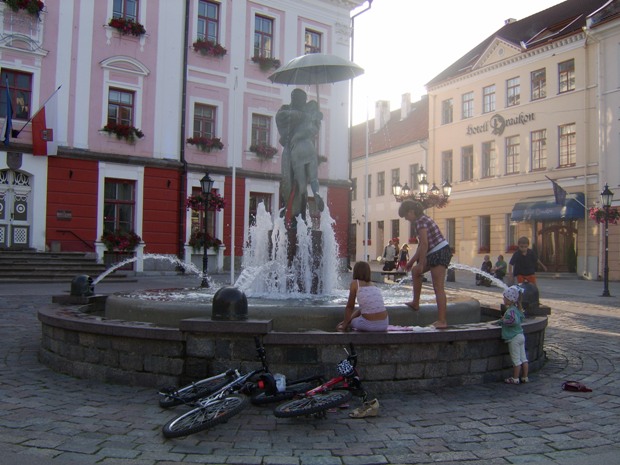 A country easy to reach
Travelling by sea, overall when it is still not frozen, is even easier due to the many different ferry companies that offer their services between Helsinki and Tallinn, the Estonian capital. Usually the trip takes 3 hours in one of the normal huge ferries. It is an experience recommended to go through once in a life at least. There you can see people gambling, flirting, getting drunk, singing karaoke…it is like a
small world itself. But I recognize that it can also be annoying and boring, especially if you travel during week ends, being surrounded by drunkards who do not allow you even to read a book in peace.
When the weather is warm, you have the option to pay a bit more and use the services of the fast boats lines, that take around 1, 5 or 2 hours to do the same trip. In any case, all the companies are located in a small geographical area around Katajanokka in Helsinki, so it is easy for you to compare prices and schedules, and decide what the best option is.
You can go to Tartu by train or by bus. I personally prefer taking the bus, since there are many
different ones available at any time of the day, so you usually do not have to wait much long at the bus station. Trip takes around 2 hours 45 minutes, and although Estonian road network has still a lot to improve, the buses are relatively comfortable and you can usually buy some refreshment there while
travelling. For those of you who own an international student card, there are always big discounts in all the transportation around Estonia, so have your card always close when purchasing a ticket. If moving around Tallinn by taxi, watch out since the taxi drivers, as in any other big city in the world, cheat quite often about the fare. A good option is to agree the price in advance. A ride from the terminal to the bus station would not cost more than 75 Estonian crowns. If you want to stay a bit in the centre before heading to Tartu, and need some food, I advice you to taste the delicious Russian soup "seljanka" in a pub called St. Patrick. Yeah…they prepare one of the best Russian soups in an Irish pub!
If you are beer lover, stop by The House of Beer, where they produce their own tasty one. Watch out when eating and drinking in Tallinn, because prices are not how they used to be years ago and it can happen that you end up paying almost as much as in Finland.
Last time I was in Tallinn I paid 4, 5 euro for a big orange juice in one jazz club. Even beer was a bit cheaper… Outrageous!
A charming city with a long academic history
Tartu University was founded in 1632 and undoubtedly nowadays student life makes the city turn around. You have the clearest example in the statue on the fountain that decorates the main square (Raekoja Plats) where the City Hall is located. There you can see 2 young students melt in one long kiss while an umbrella protects them from the rain. As an English friend of mine told me, "there is no better symbol than Kissing Students Statue to define this city". Just in one corner of the City Hall you can also find easily the Tourist Information Office, where they can answer your questions and help you to plan your stay and excursions.
When finding accommodation, you have prices for all the pockets. From the reasonable cheap hostel located at the same building that the student dormitory in Raatuse Street (where most of the foreign students live) to the last and trendy Hotel Dorpat Spa that was open less than one month ago close to the bus station.
Moving around the city centre is easy, since distances are short, so you can easily walk to do shopping, to eat outside or clubbing. Other feature that amazes me in Estonia is the high variety of products that you can find in the supermarkets, much more extensive and better than in Finland. Quality of food and drinks is usually good wherever you buy, but if you want to play safe and have a bit more of different imported products, you can always go to Kaubamaja supermarket, the big grey (and many say "ugly") new building that dominates the centre of Tartu, although prices there will be higher than in other spots of the town.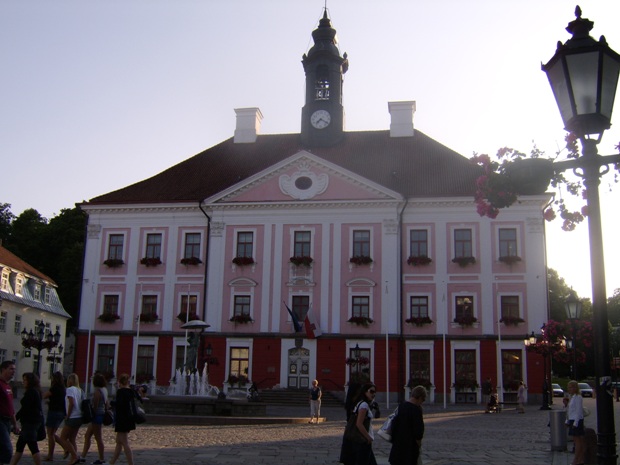 The mother of the town is a river
River Emajõgi (meaning "mother river") crosses all over Tartu and you can enjoy a bath on summer on both sides of its banks while watching people fishing from the bridges that link both sides of the city. Another great option is to go trekking or cycling to Jänese Matkarada, a path wrothy to explore in the left side of the river with curious wooden statues spattered all along the way.
Rüütli is the name of the main pedestrian street that starts from the Main Square, and it is excellent to stop by the terraces and have refreshment. Another nice spot to explore in Tartu is Toomemägi (Toome Hill). There is located the Dome Church, whose ruins are being rebuilt, and houses the Tartu University History Museum. Take a look also at the Old Observatory and the Devil and Angel bridges. And when you are tired of sightseeing and cultural life, Tartu has one of its strongest points in the great amount of places to go out, have a drink and party. Nevertheless, this is a student town! Prices are still low compared to Tallinn, and the atmosphere is more relaxed. I recognize I like beer, so for beer lovers as me, again a good advice is to taste the excellent house beer (maja õlu) in Püssirohu kelder (Gun Powder Cellar), a quaint old gun powder storage turned into a tavern. There are karaoke nights there quite often, but the quality of the singers usually makes you go for the beer with renewed strengths…
Other good place to eat and drink is the Irish Pub Wilde, with another excellent house beer, although you can also give a try to the national beer brands: Saku and A le Coq (no, it is not French…) which quality is honestly much better than the Finnish ones. Also Czech beers are usually easy to find and quite affordable. Suudlevad Tudengid Bar (Kissing Students) in the Main Square or Maailm in Rüütli are other good choices when your stomach calls for something to chew.
My advice for you about Estonian delicacies is to taste while having a coffee the delicious "pirukad", filled with mushroom or meat, and also give a try to the hot black bread with garlic sauce, yummy! And if you prefer Russian cuisine, Rasputin restaurant is an excellent option.
Tartu is quite a secure city and Estonians are in general calm and honest people. By own experience, I can say that I have not had any problems while staying there. But obviously, a bit of common sense, overall when being outside late at night, is always recommended. You will see that you can find people from the private security company "Falck" controlling everywhere, from buses to clubs, but in general you should not have to receive any disgusting surprise if paying a bit of attention to the places where you move. If you are a party animal, there is quite a huge offer of big clubs to satisfy you: Maasikas and Illusion clubs are new ones opened during last year, apart from Tallin Club (my favourite one), Pattaya (decorated as if you just have stepped inside
the jungle) or Atlantis, latest one being maybe the most popular
in the city, due to its excellent location close to the river at the other side of Raekoja Plats. And when the clubs close, for the bravest ones there is a "legendary" bar to gather together until the end of the night: Zavood.
And the most important feature of Tartu: it has a lot of charming. So if you are looking for a bit different destination, far from the hordes of Finnish visitors in search of booze in Tallinn, my advice is, go for some days and discover all what Tartu
can offer you!
It has become a kind of tradition in Tartu to cross the bridge that links Raatuse street and Raekoja Plats walking on the arch that elevates over it. We do not recommend the activity, since falling from there
can send you most probably direct to the grave, but still you can see, especially at nigh time, some drunk shadows tempting their luck.
Where can you find the citizens of Tartu at week end? Sleeping with hangover until late? Watching TV? In most of the cases, no. Go to the storages and shops in the outskirts of the town and you will find the answer. Estonians are kinds of work alcoholic who always think about the next thing to fix at their own houses. And there is always something to fix! So after the normal work hours, it is time to do some "remontti" ("or as our friend Markku from Finland would call them: "remons").
Photos: Antonio Diaz