Just a couple of days ago I received at home the documentary in DVD "Maradona" by the famous Serbian film director Emir Kusturica. After watching it, I still hesitate between recommending it or not. Honestly, from the cinematographic point of view, I got a bit disappointed; I thought that the movie was going to be entirely focused on Maradona and his life, but it looks more like a movie about the director himself meeting Maradona. In fact, I think that Kusturica appears more minutes on screen than Maradona himself.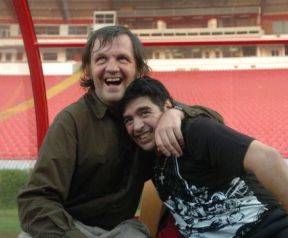 This can also be due to the difficulties in getting contact with the Argentinean. The footage was recorded 5-6 years ago, with Maradona immersed and dealing with his well known drugs problems, so it took more than 2 years for the director to gather enough material to put the film together, and you can see his desperation in some parts of the movie. All in all, there are still some good and emotive moments, when you see the most human side of the ex-footballer: his moments with his family and parents, his raw honesty when talking about the drugs and all what he missed in life due to them, his visit to Belgrade waving his hand to the people in the streets…
I think that the fact that makes Maradona still so beloved all over the world (ok…maybe except in England) is that we see in them the weakness of human beings. Who does not have a friend or a relative with a good heart, but who always manage to get in problems because of gambling, alcohol, drugs, women, taking the wrong decision in the worst moment…? Maradona is certainly not an angel, but behind every mischief he makes, there is still a glimpse of dignity and kindness. He is not untouchable, but the kind of man who can score a goal in a stadium filled with 100.000 souls, but could still be perfectly sitting close to you in your backyard, sipping a cold beer and telling anecdotes.
The documentary has also some hilarious moments, like when featuring the "Church of Maradona" in Argentina, a group of hardcore followers of "El Pelusa" who ask their new followers to score a goal imitating the famous one scored with "the hand of God" against England in Mexico World Championship for entering their special "cult" and even marrying couples using Maradona´s biographical book as their own new bible.
As I said, reviewing the film itself, I honestly thought the final result would be a bit better. But for the lovers of football, this is undoubtedly a must see just for the simple reason of watching the superb actions and goals of Maradona while being an active player. For me Maradona is linked with my first memories about football: Mexico 86 is the first World Championship I remember (I was just 6 years old). A period of life when football players did not need to wear Gucci suits in the press conferences, did not look like Hollywood stars and did not have boots painted in other colors than black and white.I still remember, being a little child, how furious I was when the legal goal by Michel was not given by the referee, so Spain finally lost 1-0 against Brazil or how happy made me feel to see Butragueño scoring 4 goals against Denmark. And of course, I remember Maradona scoring the two most famous goals of the last 25 years of football history against England.
I always despised the goal that Maradona scored with the hand. For me, in sports cheating is always cheating and it kills the spirit of the game. Obviously, in that match it was not only about football, but more a question of national pride after the recent Falkland War that confronted Argentina and England.
But as I said before, Maradona has the magic virtue of not only being one of the best football players of the history, but also of being able to get forgiveness from football fans once and again and again. I do not really give value to his opinions about politics or religion. Maradona is the kind of person who will say one thing and when you turn your head, will do the opposite. But same than we do with a good old friend, it is impossible to deny him help and pity.
There is an interesting moment during the film, where a couple of sexy strippers are performing a little show in front of Kusturica´s eyes, but he turns his head to the TV set to watch a video of Maradona´s highlights. Same for me the best moments during the documentary were not when he meets South American presidents or starts to divagate about his addictions. The best moments were when watching archive footage of his amazing talent in the football pitch, his control of the ball with that prodigious left leg, his assistances and his incredible goals (most usually scored with the feet).
I won´t keep the image of a fat Maradona interned in a rehab clinic, but of a player able to surf though the football pitch like a ballerina breaking though six English defenders like a flash in his path to glory. As everything in life, glory in sports always comes with a price to pay.
Rating 3/5
Maradona by Kusturica Trailer