Written by Elena Paraschiv
Tracedawn is a Finnish melodic death-metal band formed by Tuomas Yli-Jaskari in 2005. Initially the project was called "Moravia", but eventually it was changed in "Tracedawn". So far, the band has released three studio albums: "Tracedawn"(2008); "Ego Anthem"(2009) and "Lizard Dusk"(2012). The band will also release an Unplugged EP for "Lizard Dusk" songs, including an acoustic video for the song "Arabian Nights".
"Lizard Dusk" was released on February 15, 2012, via Redhouse. The album was produced and co-recorded by Tuomas Yli-Jaskari, Perttu Kurttila and Vili Itäpelto at Seawolf and Redhouse Studios, mixed by Henrik Udd (Dimmu Borgir, Dark Tranquility, Arch Enemy etc.) at Studio Fredman in Sweden, and mastered by Mika Jussila at Finnvox. Tracedawn has released so far two music videos, one for the song "Breed Insane" (on December 30, 2011) and another for "Machine" ( on February 10, 2012, via Radio Rock).
This third album marks the band`s first material without singer Antti Lppalainen and also, the first with Niko Kalliojärvi ( Lithuria, ex-Amoral), who`s now sharing the role of lead-singer with guitarist Tuomas Yli-Jaskari. The current Tracedawn`s line-up is: Perttu Kurtilla (Lithuria)-drums; Pekko Heikkilä (Attempted Life)-bass; Vili Itäpelto (Seraphiel, Friends with Enemies)-keyboard; Roni Seppänen-guitar; Tuomas Yli-Jaskari (Lithuria)-guitar/clean vocals and Niko Kalliojärvi (Lithuria, ex-Amoral)- growls.
"Lizard Dusk" kicks into gear with the first track of the album "Arabian Nights", a song where the Tracedawn`s mark can be sensed, a high-energy one. After listening to the album multiple times and after digesting all the songs, this one is the perfect opener for the album, mixing the guitars and keyboards in some ways a little different from what I heard before on the other Tracedawn`s albums. The guitar solo doubled by drums it`s really, really good. This one is definitely an enjoyable listen.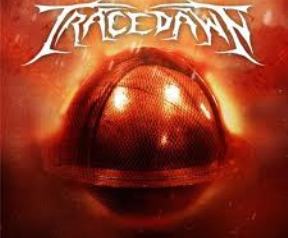 "Arabian Nights" it`s followed by "Breed Insane", reminiscent of the old days but with a sound that brings contribution to Modernism Era in melodic death-metal. While listening to the song you can hear and feel the subtile electronic vibe throught the song that surrounds perfectly the drums mixed with strong bass. The guitar solo feels very inspired, exactly like the clean and delicate keyboards that can be noticed at the end of the song. Niko is doing his job growling like he used to back in the days, valorizing those super-catchy lyrics. This song is also one of the highlights of the album and it`s already part of the band`s live set.
The next three songs "Sick Fire", "The Crawl" and "You`re fired!" do their job successfully and do not decrease the intensity or the energy of the album in any way. Actually, "You`re fired!" is one of the best songs of this material. A black metal influence is given by the film music present on the background of the song. After minute 2, it`s starting a soft guitar solo (which reminds me of Amoral`s "Warp") followed by a sudden shift to growls and heavy drumming.
"Machine" is the sixth song of the album. This one provides listeners mind-blowing guitars, pretty solid groove based-riffing, beautiful songwriting with catch lyrics, all this making "Machine" a real technical death-metal song with some pop-metal influences here and there. The final cut of the song where the keyboards are doubled by drums is simply beautiful.
"Nothing and Nowhere"- the best song of the album. Why? Because the beginning is smooth, fine, in a jazzy style, pleasant and delicate (almost making you lay down and relax with a glass of red wine) and then, they really slip into their comfort zone. Clean and simple vocals entwined with Niko`s growls, beautiful keyboard and guitar solo make this song a masterpiece. Even though it starts sweet and calm, the song is a delight of drumming and it`s not void of any real growls either.
"Thanks for asking, I`m just obsessed" and "Taught my eyes to lie" are the last two songs of the album, reminding the listeners a little bit of the old days. The first one, "Thanks for asking, I`m just obsessed" doesn`t need any description. When you read the title you know exactly what to expect. Electrifying guitars, heavy drumming, groovy riffs, perfect growls, all mixed with fine American sound, good songwriting, pretty powerful bass that makes your heart vibrate, make this song HEAVY AS HELL.
"Taught my eyes to lie" is a simple, pure and real melodic death-metal song. I would say that this is the best ballad-type song of the band so far, with its beautiful chorus brought to life by guitar riffs. The end of the song comes again to show that Tracedawn know what they are doing and where they are heading to, definitely this song was the best way to end a very good album.
No doubt "Lizard Dusk" is the best output material of the band so far. It`s an album that`s challenging the musical intuition of every listener, an album that has unforgettable tracks, an album that during the tracks hasn`t the energy putter down. While listening the whole album you can notice a change in style and sound. Well, this time is a good change. It seems to me that Tracedawn found their perfect formula, making an epic, superior material that merge elements from many musical styles(the pure jazzy, cosy style which is in perfect antithesis with the genre they`re approaching it`s amazing). And Niko coming and taking the role of lead-singer is a big plus for the band, because first, he is like the Master Of Growls and he is not shy in showing it everytime he can, and second because it`s well-known the fact that he is still loved by the old fans of his previous band, fact that brought Tracedawn more fans.
All in all, "Lizard Dusk" is a complete album that`s definitely worth buying, of a band who stays somewhere at the boarder between underground and commercial.
Rating 4.8/5
Track List
01 Arabian Nights
02 Breed Insane 03 Sick Fire
04 The crawl
05 You`re Fired!
06 Machine
07 Nothing and Nowhere
08 Thanks for asking, I`m just obsessed
09 Taught my eyes to lie
Tracedawn – Breed Insane