London based hard rockers Reverted have announced a very intimate release show for their upcoming new record "Stripping The Worms"; an acoustic re-recording of their debut record "Sputter The Worms", on November 3rd.
The band are set to appear at the legendary Shaka Zulu, a lush African themed bar and restaurant in Camden Town, where they'll be premiering their new video "Time" and performing live renditions from "Stripping The Worms".
Vocalist Tony Vega had this to say on the record and its launch:
"Stripping The Worms" is, for us, an intimate voyage of sorts. We aimed to preserve crucial elements of the songs while giving way to new gripping and exciting structures.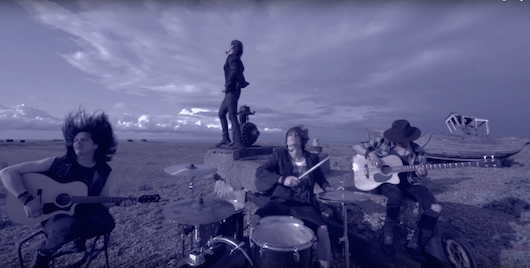 Fans can check out the band's open invitation and choice clips from "Stripping The Worms" here – https://www.youtube.com/watch?v=wCErXm7swEA&feature=youtu.be
Completed by guitarist Danny Ruiz, drummer Ozzy Preciado and bassist Luis Lopez; Reverted formed in 2010 and quickly set to work putting together their debut EP "Tolerance" in 2011. They followed "Tolerance" up with the successful "Sputter The Worms" in 2012, which elevated the band to higher levels; selling thousands of copies independently and scoring the band coverage in Kerrang!, Metal Hammer, Classic Rock and Powerplay Magazine. The band also gained airplay on Total Rock and countless other stations across the UK, Europe and the US with the single "Die My Saint".
The video for "Die My Saint", their first music video, was released later that year with appearance on national TV such as Scuzz, Kerrang & MTV. The clip captured both the band's explosive energy and their commitment to storytelling. In 2013 the band began working with acclaimed producer Pedro Caparros (Breed 77, The Answer) on their latest record "Stripping The Worms"; an acoustic re-imagining of "Sputter The Worms".
Alongside their incredibly output, the band have secured support slots with American Head Charge, Evile, Fozzy, Kill Devil Hill and countless others. Not content with ruling the London scene, the quartet are set to hit the road throughout 2016 with tours in Central & South America, and Europe before heading home for a headline UK tour.
With a new album in tow and an insatiable hunger to hit the road, Reverted are looking to end 2015 with a band and lead a trail of fire through 2016. Book your ticket for November 3rd now, before they sell out!