UK Sludge legends Raging Speedhorn have announced Ten Foot Wizard & Telepathy as the support acts on their upcoming UK tour this November!
The band are set to embark on a six date UK tour in support of their upcoming, as yet untitled, new record which is set for release in early 2016. Their first release since 2007's "Before The Sea Was Built" and their first to feature new guitarist Jim Palmer.
The dates for the tour are:
Thu, 26 Nov 2015 – The Globe, Cardiff
Fri, 27 Nov 2015 – The Underworld, London (Support acts – Gurt, Ten Foot Wizard & Telepathy)
Sat, 28 Nov 2015 – Slade Rooms, Wolverhampton
Sun, 29 Nov 2015 – The Corporation, Sheffield
Mon, 30 Nov 2015 – Star & Garter, Manchester
Tue, 1 Dec 2015 – The Exchange, Bristol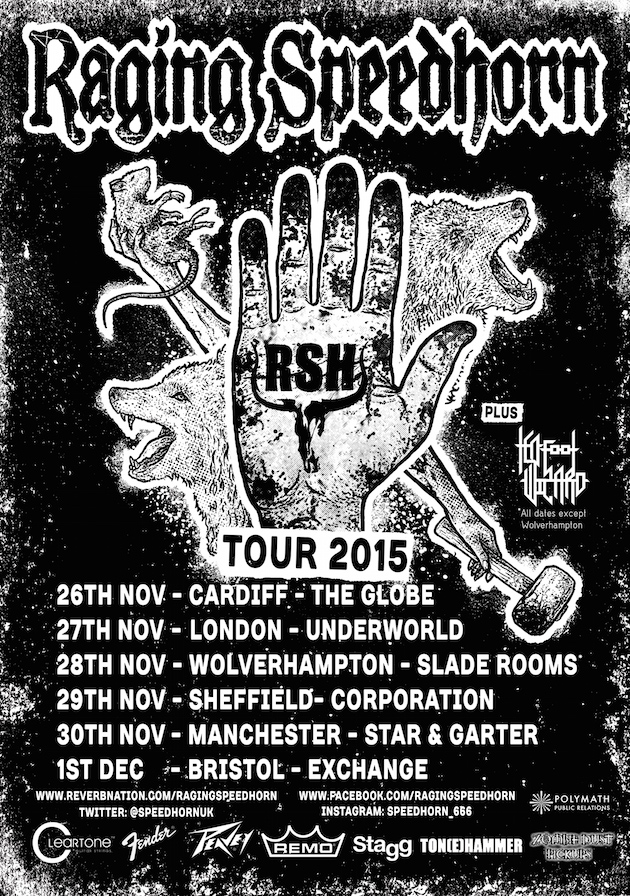 The band, who launched a Pledge campaign earlier this year for their new record, have recently announced that fans participating in the Pledge will received a free live EP as a thank you.
Fans wanting to contribute to the Pledge can do so here – pledgemusic.com/projects/raging-speedhorn
Raging Speedhorn formed in 1998 and went on to release four records, the most successful being their second release "We Will Be Dead Tomorrow", recorded by Billy Graziadei & Danny Schuler of Biohazard fame. The band achieved chart success with 'The Gush' in 2001, toured continuously with acts like Slipknot, Ill Nino, Rammstein and Will Haven, and performed at countless festivals across the globe, including main stage at the inaugural Download Festival in 2004. They split in 2008 following the release of their last record "Before The Sea Was Built" and a subsequent tour of Japan.