The Finnish band led by Oskar Nyman and Joel Isaksson features their promising debut album. See the life green like a pear!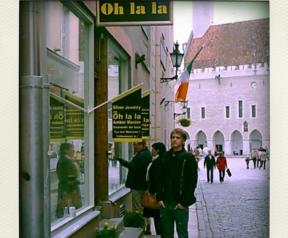 The band is composed by Oskar Nyman on the vocals, Joel Isaksson on the guitar, piano, banjo and vocals, Egon Veevo on the bass and Anders Salim on the drums. As they explain at their official MySpace site, most of the work for their first studio album was done while enjoying some nice time in a summer cottage. We don't know if that cottage had a third floor, or if the Finnish guys had stairs available to reach a third degree of inspiration, but what is certain is that their debut album is a more than notable work.
With folky pop-rock style, they have quite a nice and interesting American sound, which can remind you to bands like The Jayhawks or even The Rolling Stones themselves in some parts of the record. As some highlighted tracks, I would recommend All is Well, I ´ll be Fine or the relaxing acoustic parts of Home as well as the romantic ballad Hold Me.
As you can see, the Finns have quite a positive vibe in their songs (and their titles), quite refreshing in a scene that usually reaches from the most depressing side of the music.
A great work, pretty enjoyable. If I can put a "but", I would complain that there are only 8 tracks to listen to!
Rating 4/5