The 36th Helsinki International Film Festival – Love & Anarchy finished on September 24th on a high note with the closing gala screening of Celine Song's PAST LIVES. Finland's biggest film festival had over 51 000 visitors, which is its post-COVID record. The 37th Helsinki International Film Festival will be organised on September 19th – 29th 2024.
Helsinki International Film Festival finished with a bang with the sold out Closing Gala screening of PAST LIVES. The festival screenings and events gathered in more than 51 000 visitors in total, which is the largest audience for any Finnish film festival since the pandemic. The biggest hit of the festival was the U.S. indie maverick Kelly Reichardt's newest film SHOWING UP. Other big hits included British comedy SCRAPPER, Estonian kung fu comedy THE INVISIBLE FIGHT, Bollywood meets martial arts mash-up POLITE SOCIETY and transgressive thriller FEMME. The international gala films THE ZONE OF INTEREST, POOR THINGS, MONSTER and PAST LIVES were all sold out.
Among the most sought-after screenings were THE LAST BUS with the legendary British actor Timothy Spall in attendance, the two Finnish gala films Teemu Nikki's DEATH IS A PROBLEM OF THE LIVING and Katja Gauriloff's JE'VIDA, the French gourmet film THE TASTE OF THINGS, Takeshi Kitano's samurai epic KUBI and Pedro Almodóvar short films.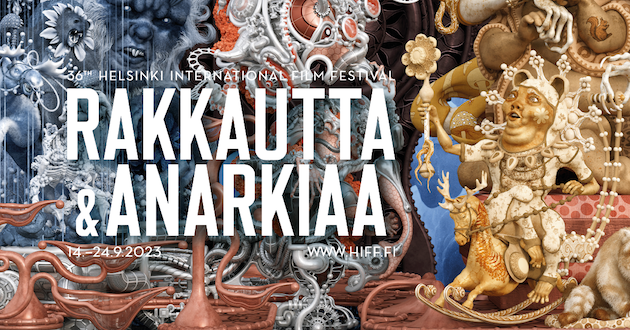 HIFF had the honour of hosting a slate of filmmaker guests including Catherine Corsini (HOMECOMING), Gunnar Vikene (WAR SAILOR), Anna Neye and Frederikke Aspöck (EMPIRE), Anna Hints (SMOKE SAUNA SISTERHOOD), Lea Glob (APOLONIA, APOLONIA), Rainer Sarnet (THE INVISIBLE FIGHT) and Jonas Rothlaender (THE POWER OF LOVE).
The R&A Shorts National Competition's main award winner was Elisabeth Marjanovic Cronvall's Lizard Brain. Other award winners were Karoliina Gröndahl's Every Tom, Dick and Urpo (Uusi aalto Award), Iiti Yli-Harja's Blush – An Extraordinary Voyage (Moving People and Images Award), Arman Zafari's Prelude (Best Student Film) and Tuukka Kovasiipi's Jouko (honourable mention). The Audience Award went to Fabian Munsterhjelm's Thank You in Your Language.
The HIFF industry sidebar Finnish Film Affair brought more than 500 film industry professionals to Helsinki. Winning projects pitched at the event were Miia Tervo's The Missile (Best Fiction), the Norwegian Lovable (Best Nordic Project) and Showtime in Helsinki (Best Documentary).
This year's audience vote organised by the National Audiovisual Institute and the HIFF was won by 20,000 SPECIES OF BEES, which will be screened as Kino Regina's film of the month in November.
The 37th Helsinki International Film Festival – Love & Anarchy will be organised on September 19th to 29th 2024. Before that, a selection of the year's best movies can be seen at the R&A Spring Break festival.