In what will be remembered by probably all Finnish Maiden fans as a great evening of metal, Iron Maiden visited the capital of Finland again to offer a show full of power. In around 2 hours, they played a not very long but impressive setlist collecting most of their greatest hits for delight of their many followers.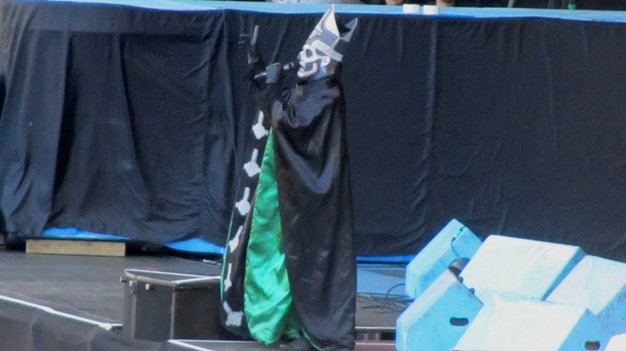 But the evening started several hours before that with the opportunity to see 3 great opening bands, something unusual nowadays unless you go to a summer festival. The Swedish Ghost, with that charismatic singer dressed like a pope from hell and a band that seem to be dressed as big bugs, started to set the mood of the audience at a stadium that was filling step by step until reaching around 28.000 spectators when Maiden stepped on stage. I enjoyed Ghost, but certainly maybe 18:00 in the evening with the sun shining is not the most suitable environment for them playing live. All in all, a pleasant band that mixes it up great music with a good theatrical performance onstage.
After them, Swedish Sabaton and local Amorphis took the stage. Sabaton has a strong reputation in Finland and certainly people seem to enjoy their lyrics and warrior attitude on stage. With Amorphis performance, honestly I cannot comment much because as most of the audience, I was dedicated to take advantage to have the final drinks in the drinking area before Maiden's show would begging. A little slap to the organization in the question related to portable toilets. People had to wait half an hour to be able to use them. When almost 30.000 are gathered in a stadium, these things should be a bit better planned, because obviously most of them are going to be concentrated on the drinking area…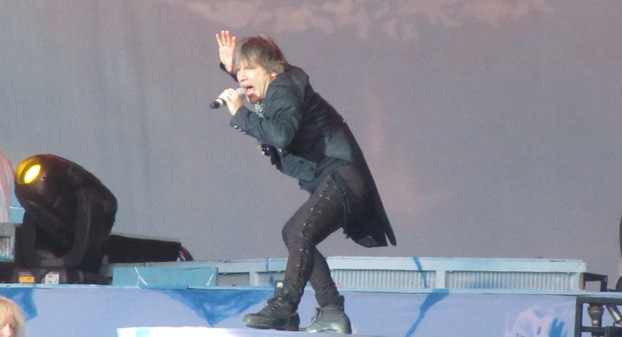 A few minutes after 21:00 the British legendary metal band Iron Maiden irrupted on the stage starting with Moonchild, and what followed was a total battery of metal classics, with the audience getting ecstatic for some moments and losing the voice screaming the lyrics of arch-famous hits such as Afraid to Shoot Strangers, The Number of the Beast or Run to the Hills. Vocalist Bruce Dickinson as charismatic and with such a great voice as always dominating the stage from the top and running around, but it is true that the age starts not to have mercy on him, the band looks old, the physical aspect has deteriorated in the last years, and obviously they cannot hide they are already in their mid fifties. In any case, this did not affect at all the professionalism shown on stage. Fans got exactly what they expected, with Bruce changing outfits dressed as a British soldier or as a strange gothic vampirish character… Eddie visiting the stage as a dead pirate… Fireworks, the decoration at the back of stage changing and showing different album art covers for every song… And when the encore starts with such a powerful song as Aces High, you cannot really get it much better than that in any metal concert around the world! Solid performance once again of Maiden, one of the most beloved metal fans in Finland. And they show why, always pleasing the fans.
Setlist. Iron Maiden. 20/07/2013 Helsinki Olympic Stadium
Moonchild
Can I Play with Madness
The Prisoner
2 Minutes to Midnight
Afraid to Shoot Strangers
The Trooper
The Number of the Beast
Phantom of the Opera
Run to the Hills
Wasted Years
Seventh Son of a Seventh Son
The Clairvoyant
Fear of the Dark
Iron Maiden
Encore:
Churchill's Speech
Aces High
The Evil That Men Do
Running Free