Fans of Norwegian black metal rejoice, as scene legends Aura Noir, low-end heavy mob Khold and avant garde outfit Dodheimsgard have been announced to join the already stunning line up at this year's Trondheim Metal Festival!
Formed in 1993 by Aggressor (Carl-Michael Eide) and Apollyon (Ole Jørgen Moe), Aura Noir released their debut EP Dreams Like Deserts in 1995. In 2004, they were the first band to be signed to Tyrant Syndicate Productions, a sub-label of Peaceville Records, run by Nocturno Culto and Fenriz. Their fifth studio album, Out to Die, was released through Peaceville in March 2012, with a new record is set for release this year featuring Blasphemer (Mayhem) on guitar.
Khold was formed in Oslo in 2000 by Sarke (drums) and Gard (vocals & guitar) after the split of their former band, Tulus. In late 2000, they signed with Moonfog Records, the former label of Satyricon frontman, Satyr. They toured internationally with a number of big extreme metal bands, including Behemoth. Following a brief hiatus, they returned in 2008 with the crushing Hundre År Gammal. The band released their latest record Til Endes in September 2014 through Peaceville Records.
While, Dødheimsgard (also known as DHG) formed in 1994. Initially a straight-up black metal band, they changed tact with 1999's 666 International, which saw them change into an experimental and avant-garde/industrial band. The band released their fifth studio album, A Umbra Omega, on March 16, 2015.
Be you a fan of the fast, the dark or the dirge-ridden; TMF have got you covered.
TMF are also happy to announce their new sponsors; US based metal giants Metal Sucks and Scottish crafts company Asgard.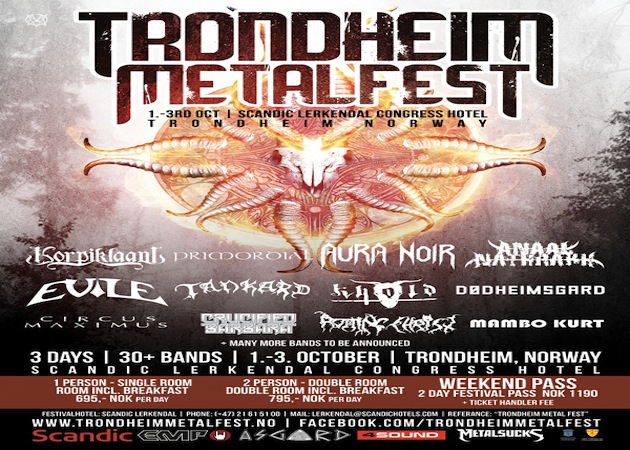 Asgard had this to say of the new partnership:
"It's a great pleasure to be sponsoring the Trondheim Metal Festival. As a business, we draw a lot of our influences from Norway's Viking culture. Trondheim has been an important city for a very long time, and it is fantastic to now see it on the European festival map. Their selection of bands always includes a number of our favourites, and we look forward to seeing some awesome gigs there in October."
Further to this, TMF's sixth outing will be held at the glamourous Scandic Lerkendal Congress Hotel, both the newest hotel in Trondheim, and also the biggest conference hotel in Norway. Complete with three stages; sporting a total capacity of 2200, a metal market area, Q&A's, clinics, cinema, meet & greets, quizs, tattoo stands, restaurants, bars, snack shop, gym, sauna, lounge areas and exciting travel excursions around Trondheim. In short, TMF in 2015 is not to be missed.
At 75 meters, the hotel is also Norway's third tallest building; with a skybar/conference room on the top floor, which has an exclusive panoramic view of the city. This will be used for a series of activities during the daytime, and will be turned into a skybar with metal karaoke once darkness falls.
Festival head honcho Eirik Teller had this to say:
"This festival has always evolved, with adding something new and fresh every year. And when our city of Trondheim got an even bigger conference hotel last summer, it was clear as day, we had to have the festival there! Being that it´s actually on-site with Lerkendal Stadium (home of footballers Rosenborg), it gave us some real advantages, both logistically and also to enhance the experience for the audience. And of course, now we can call it a "stadium festival"!
And with the newly addition of great bands like Aura Noir, Khold and Dødheimsgard, we´re really knocking on the Norwegian metal spirit, but we also have so many great bands, yet to be announced! So, all in all, this will definitly be the biggest year in the festival´s history, yet. And we´d like to invite you all to a truly unique festival experience, where the hotel is the venue and the venue is the hotel! Hellcome to Trondheim!"
The festival's current line-up includes British black metallers Anaal Nathrakh, Finnish folk metallers Korpiklaani, Irish black metallers Primordial, British thrashers Evile, German thrashers Tankard, Greek black metal legends Rotting Christ, Norwegian metallers Circus Maximus, legendary Swedish rockers Crucified Barbara & German artist Mambo Kurt!
Previous headliners of the festival have included Behemoth, Devin Townsend Project, Gojira, At The Gates, Napalm Death, Electric Wizard and more.
Ticket prices for the event are as follows:
Two-day Festival Pass
1190,- NOK + Ticket fee
One-day Festival Pass
TBA
Hotel Only (festival ticket not included)
Single Room Incl. Breakfast (per day)
NOK 695, – + Ticket handler fee
Double Room Incl. Breakfast (per day)
NOK 795, – + Ticket handler fee
Advanced tickets can be purchased here:
Festivalhotel: Scandic Lerkendal | Phone: (+47) 21 61 51 00 | Mail:
lerkendal@scandichotels.com | Reference: "Trondheim Metal Fest"